Wordburglar - Burgonomic
Written by Chi Chi Thalken on July 1, 2022
Wordburglar is an emcee originally from Halifax but based in Toronto. He's been releasing music for nearly twenty years, both as a solo artist and as part of the massive Canadian hip hop collective known as Backburner. While we heard him on the most recent Backburner album, Continuum, and we got a best-of vinyl release in The MacGuffin Device LP, it's actually been three years since we got a proper all new full-length album from Wordburglar. Well, worry no more, because Burgonomic is here.
There are certain artists that you don't mind being consistent, because they are consistently good. They're great at what they do, and you always have a good time when they do what they do. Wordburglar is one of those artists. If he wanted to do some wild experimental album, he's more than earned the right to do that, and I would give it a chance. However, if he just wants to continue making these extremely fun nerdy hip hop albums that bump like nobody's business, I'm going to eat it up every time. That's because one, Wordburglar is just a nice, fun, nerdy guy, and that always comes through on his albums. He loves comics, sci-fi, video games, minor league baseball, weird pockets of Canadian culture, and hip hop, and he is very genuine in wanting to share all of this with his listeners. Two, Wordburglar set the standard very early on in his career that he was always going to be an emcee who would get creative with the rhymes and always come in with an interesting observation, great punchline, or layered lyrics that will have you hitting that rewind button. Three, he's a guy who fell in love with that '90s East Coast boom bap when he was coming up, and he always finds the best beats in that style for each album. For Burgonomic, he's enlisting the help of Beatmason, Buck 65, Jorun Bombay, Timbuktu, Fresh Kils, Milk Plus, Savilion, Peter Project, DK, Irn Mnky, and Diagnostik80. They all come through with some big beats that will make you bob your head and make that stank face. Wordburglar is also finding some unique angles throughout the course of the album to spice things up and keep everything fresh, such as the meta "making of the posse cut" track, "Wanna Be On My Posse Cut?" which features Burg calling up a bunch of different artists and trading lines with them about putting a posse cut together. Everyone is great, but Moka Only absulutely steals the show on this one in taking on a funny version of himself. Burg is also going deep about physical media, particularly cassettes and CDs, with a song about each format on the album, making you pause and think about your preferred method of listening to this album. He's also doing some myth-building with a track about a legend for all the wrong reasons, "Lenny Boutilier." When you put all of these pieces together, you get an album that is fun and entertaining from start to finish, one that is going to sound fantastic blasting out of your speakers all summer long.
Burgonomic once again finds Wordburglar delivering the goods. He knows who he is as an artist, but he's never phoning it in. He's putting in the work to make sure things are clever, original, fun, and entertaining each time around, and boy does he check off all of the boxes with this album.
| | |
| --- | --- |
| Title: | Wordburglar - Burgonomic |
| Label: | Props Department |
| Year: | 2022 |
| Rating: | 8/10 |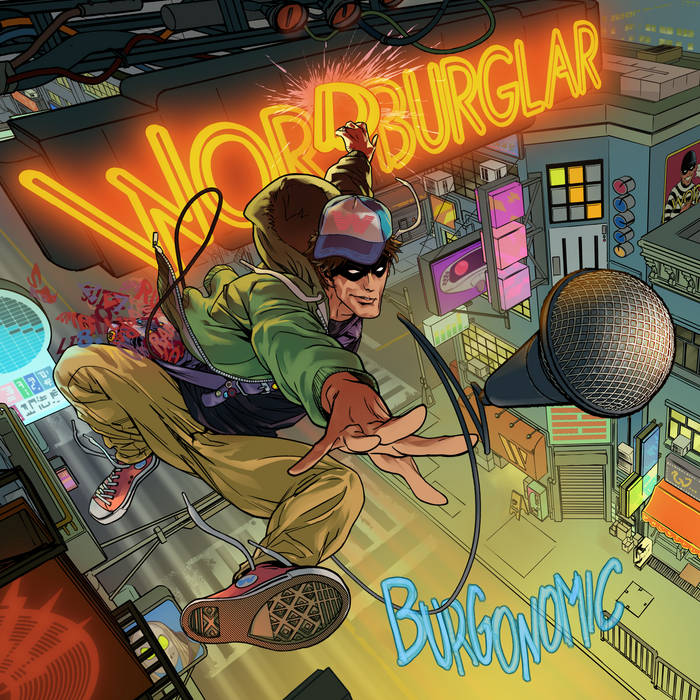 Previous: Sankofa - KofaSoCalfragilistic
Next: mejiwahn - Beanna