Sankofa - KofaSoCalfragilistic
Written by Chi Chi Thalken on July 1, 2022
Sankofa is an emcee from Fort Wayne who has been releasing music at a steady pace for the better part of two decades. We last heard from him back in March, when he released the album Legacy Materials. Now he's come right back with a new EP, KofaSoCalfragilistic.
The title of the EP comes from the fact that this project is being done in collaboration with producer SoCal, who is from (you guessed it) Southern California, specifically from Los Angeles. Over the years, he's worked with artists like Marv One and Izrael Jakob. He had actually reached out to Sankofa a while ago about a possible collaboration, but Sankofa had too many irons in the fire at the time, so he had to wait until a least a few of them where completed. When he finally got the right place, he got back in touch with SoCal, everything fell into place and before they knew it they had five songs ready to go. Listening to the EP, it's pretty easy to see why SoCal might want to work with Sankofa, since he's great at producing these gritty, dark midtempo boom bap tracks, the kind that are Sankofa's bread and butter. There's just a little bit of an aggression, a little bit of an edge to these beats, but there are also great pockets for Sankofa to hop in and start spitting in his low, clearly annunciated flow. He's talking some trash and making clever basketball references, which is fun, but after setting the stage, he's ready to get into more serious subject matter like being a parent, trying to navigate a world full of toxic masculinity, and just trying to do right by your family. Sankofa also finds some room to bring in some friendson the project. Royalty from the Pride of New York crew hops on "Be a Good Man," providing a nice contrast in styles with his slightly higher voice and smooth delivery as they both get real about family life. The EP then closes out with frequent collaborator JOHN?DOE, when they have a friendly give and take as they try to outdo each other with the clever shit talking on "Goes Bump!"
KofaSoCalfragilistic is just the type of EP that you hope to get from a couple of veteran collaborators like Sankofa and SoCal. In the course of just five songs, they are giving you some classic hip hop, ranging from some fun tracks that go wild with the wordplay, but then also find room to get really serious and personal and deal with some real day to day life issues as well. It all comes together with ease, passion, and energy.
| | |
| --- | --- |
| Title: | Sankofa - KofaSoCalfragilistic |
| Label: | S/R |
| Year: | 2022 |
| Rating: | 8/10 |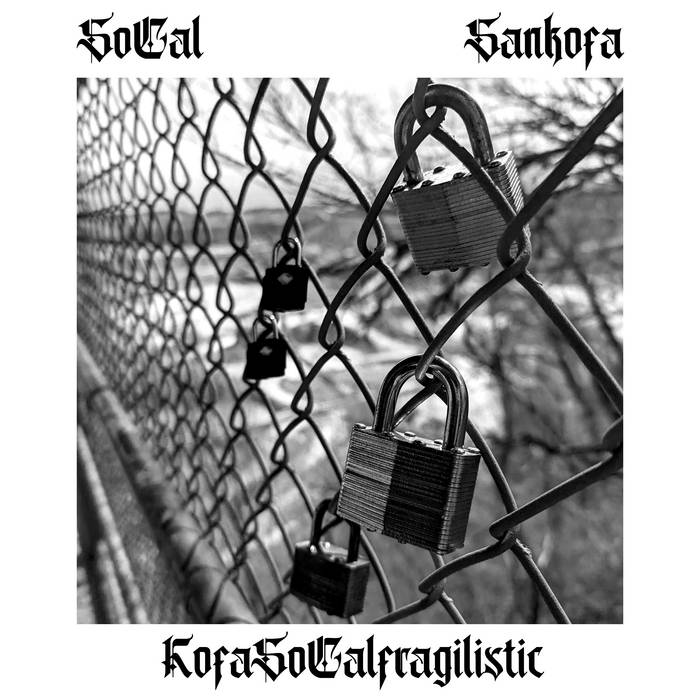 Previous: Memphis Reigns & QM - Reign Clouds
Next: Wordburglar - Burgonomic