Secret Stages 2021: In Review
Written by Chi Chi Thalken on August 9, 2021
Many things were put on hold in 2020, but one of the things that hurt the city of Birmingham, Alabama was the cancellation of the Secret Stages Music Discovery Festival. Not just because the festival is a great celebration of music from the city, the region, and beyond, as well as a celebration of the Avondale neighborhood, but also because they were set to celebrate their 10th anniversary. In 2021, as the spread of COVID-19 started to slow, Secret Stages announced their return with a great lineup of varied acts, including Armand Hammer as a headliner. It gave those of us in the region a lot of hope and joy to see the announcement, but as the festival began to approach, so did a second wave of COVID. Fortunately, the hardworking staff at Secret Stages took as many precautions as they could to ensure the safety of the performers and attendees, including two outdoor stages, required masks for the indoor stage at Saturn, sanitizing equipment between sets, and closing down a couple blocks of 41st St so that everyone could eat safely distanced outside. Despite all these challenges, and because of the hard work of all involved, Secret Stages 10 (Ver. 2.0) was able to bring together a lot of music lovers and help them discover some of their new favorite acts. Let's break it down.
Friday, August 6th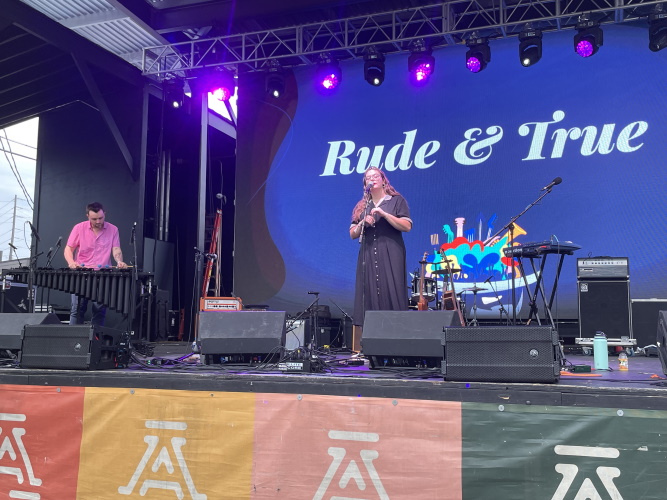 Rude & True at Avondale Brewery
The evening started out not with some hip hop, but with some interesting indie rock/soul from Birmingham duo Rude & True at the Avondale Brewery's outside stage. With Rebecca Egeland on vocals and acoustic guitar/ukulele and AJ Covey on vibraphone, guitar, and various percussion instruments, the two welcomed in everyone to the festival with Egeland saying, "We're going to play a few sad songs for you, if that's okay." It was okay, because these weren't mopey and depressing songs, they were soulful songs about heartbreak. Despite being on a large stage playing to an open air situation, the two did an admirable job of making it feel like a much more intimate situation with their set. They did this with the minimalist composition of their songs, but also the powerful and soulful vocals of Egeland who made the distance between the stage and the audience feel a lot smaller.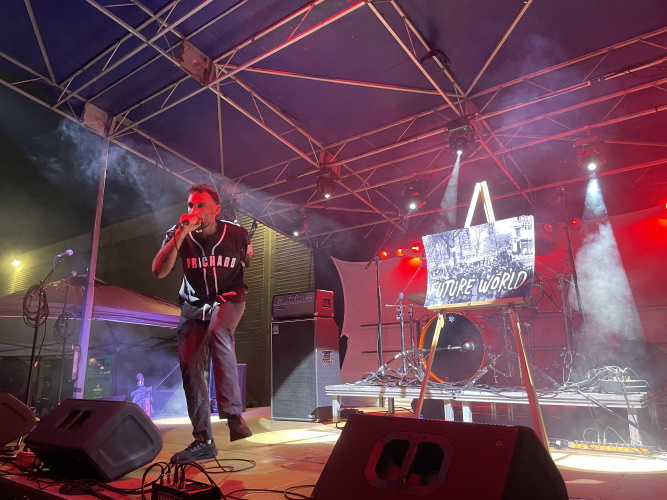 Big Lo at the Black Tie stage
Things really got popping when Big Lo took the stage at the Black Tie CBD stage. The Pensacola artist was playing his first and only show in 18 months, and despite the rust, he quickly got into once he got a song under his belt and the muscle memory came flooding back. As an audience member who is also shaking the cobwebs off, it also felt good to be led in some call and response and to be asked to put my hand in the air and wave it from side to side. Lo also used the unique stage prop of putting all of his song titles on posters that were on an easel, which he changed with each song. Not only did it help fill the awkward space in between songs, it really helps in a festival setting like this where not everyone in attendance has put in time with his previous albums, so if someone in the audience is like, "This song is dope! What is it?" They can simply snatch a photo of the stage with Big Lo and the title card and look it up when they get home. For his set, Lo played a variety of material, but a large portion came from his 2018 album, The Illegalist. While I was familiar with his back catalogue, the real joy of a festival like Secret Stages was to see Big Lo come off stage after his set and to see a really enthusiastic audience member wanting to confirm that they were following the right social media profile because they didn't want to miss a thing after seeing his set.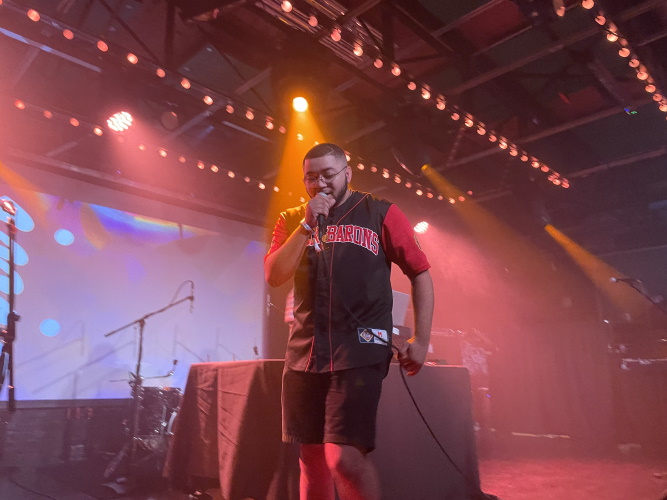 Mel.Crozby at Saturn
From there, it was inside to Saturn for Birmingham's own Mel.Crozby, who was ready to rep his city in his Birmingham Black Barons jersey. While it was technically a solo set, it quickly became much more of a Bham family set, with Erthling. handling deejay duties and artists like Linnil (fka Richard Daniel) and Kennie Blk. joing him on stage as they performed material mostly from his album released last fall, iris. There were some cobwebs to be shaken off here as well, as Crozby forgot a couple of verses, but the good news is that Linnil and Crozby picked up the slack with some freestyling, which just led to more interaction with the audience. The real cherry on top of the whole set came when Linnil and Crozby tore into a song called "All Cops Are Bad," which pulled no punches as they dropped gems like, "Oh, your dad is a cop? Then fuck your dad!" Coming from nerdy Black kids, it served as a reminder to all of those white audience members that it doesn't matter if you're a nerd, a quiet kid, or "one of the good ones," if you're Black, it's only a matter of time before you "fit the description."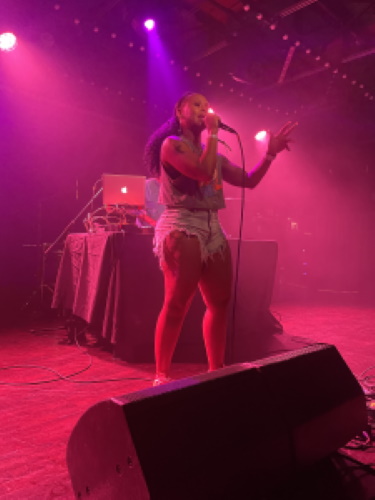 Allie Baby at Saturn
After Crozby, it was time for New Orleans' own Allie Baby. As soon as she took the stage in an Angelica Pickles muscle tee that said, "It's all about me!" you knew you were in for a treat. She just had a presence that commanded the stage. As it turns out, that confidence came from knowing that she had the skill on the mic, jumping from song to song switching up her flows and hitting you with verbal dexterity as she rapped about real life, like catching feelings and the need for everyone to have a cleanup man in their life, that true friend that will stick by your side and help you fix things when you're at your worst. One of the brightest points of her set was when she played a little bit of a game with her deejay, who started to go through a series of switchups, sneaking in snippets of beats from hip hop classics like "Shook Ones (Part II)," and forcing her to adjust her flow at the drop of a dime. All in all, she was the perfect mix of technical skill, charisma, and emotional content to deliver a really captivating live show.
Allie Baby was not technically the last performer of the evening, but she was the last hip hop act of the night, so our coverage will pick up again with Saturday's sets.
Saturday, August 7th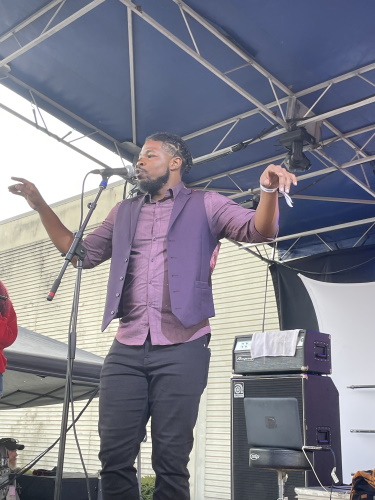 San Alexander at Black Tie stage
After a short rain delay pushed the outside stages back about twenty to thirty minutes, it was time for night two of Secret Stages. The evening began at the Black Tie stage, where Charlotte's San Alexander got things started. Looking sharp in a button up shirt and vest, he warmed up with an acapella before getting into a great set of Southern hip hop, highlighted by a lot of bounce, verbal dexterity and charisma. Like many of the artists performing, you could feel his excitement to get back on stage again. After a few songs, he brought his partner and talented artist in her right Versailles the Everything up to duet with him, and their chemistry could not be beat. Also, like many independent artists these days, Alexander made note that for all the fun he was having in Birmingham, he was going to have to drive all day Sunday to get back to Charlotte because he had to work his day job on Monday. That's real.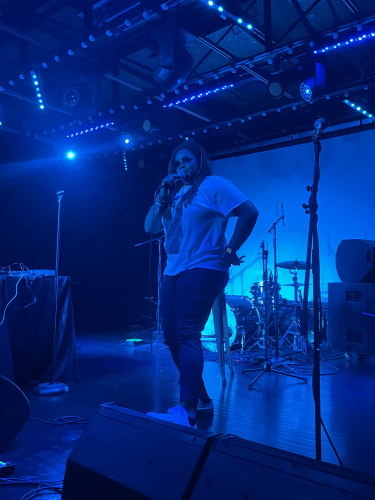 Cipherella at Saturn
Following that performance, it was inside to Saturn for the Tuscaloosa-raised, New York-based Cipherella. Looking effortlessly cool in her sunglasses, Bob Marley shirt, and plaid pants, Cipherella showed us just how much work she had been putting into her craft over the last couple of years since she last played in Birmingham. Her songwriting was sharp, her production was bumping and she even added some live elements to the production to the beginning and end of a couple of songs. Mostly, though, it was about her presence on the mic as she moved from some melodic, intimate slow songs to some upbeat songs where she spit some fire. She also demonstrated her confidence on stage with some really charismatic and silly banter in between the songs that helped endear her to the audience, all before moving into her really strong closing number, "Bonkers," which had the audience going wild and singing along.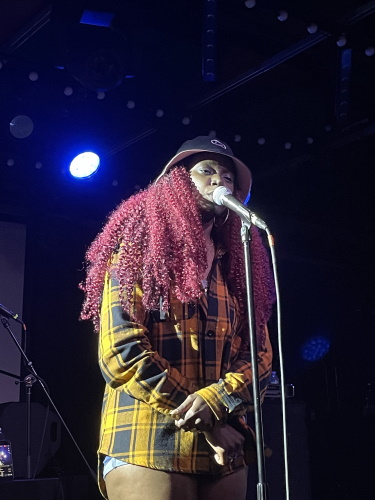 Versailles the Everything at Saturn
One dope woman on stage at Saturn wasn't enough, so Cipherella was followed by Charlotte's Versaille the Everything. Playing her first show in about three years, you wouldn't have known it by the way she quickly won over the audience with her confidence and her stage presence as she sang and rapped at an incredibly high skill level. Despite never having played in Birmingham before, through the magic of the Internet, she had connected with a pocket of fans some time ago, and they helped amp up the enthusiasm of the rest of the audience with their excitement. By the time she was laying down the soulful and infectious "Talk to Me," everyone was singing along to the chorus. Another highlight of the set came when Versailles returned the favor and had San Alexander hop on the mic so they could perform the deeply intimate song, "Paint," which just really highlighted the chemistry these two have with each other. Power couple of the festival, to be sure. While these were a couple of songs that some audience members were able to anticipate, the majority of Versailles' set was actually unreleased material from her upcoming album. If this set was any indication, that album is going to be absolutely killer.
R.A.P. Ferreira at Avondale Brewery
Next up was R.A.P. Ferreira, who was playing at the Avondale Brewery stage. After opening with a freestyle, he paid his respects to Birmingham as the home of Sun Ra and other inspirational artists before launching into a set of mostly newer material, but also some classics such as "Sorcerer," from his 2017 album Who Told You to Think??!!?!?!?! It's funny how lines like "I was flourishing in the lag time" can take on new meaning as we live through a global pandemic. As to be expected, it was a chilled out set you could vibe to and think about Ferreira's philosophical rhymes. After being asked to cut his set short (I'm going to imagine the reason was just to get the stage back on schedule so the venue could end on time and comply with noise ordinances), Ferreira finished his set by leaving everyone with "One truth: An idea is a work of art."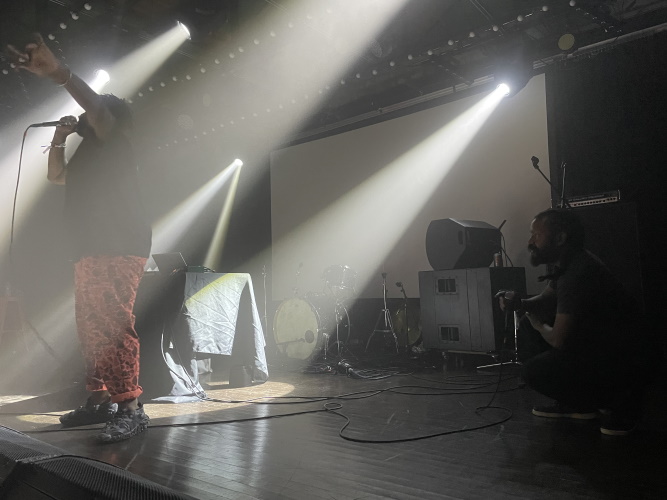 Armand Hammer at Saturn
The end of the evening came inside at Saturn, where the elusive and prolific duo known as Armand Hammer took the stage. As ELUCID and billy woods pointed out at the top of their set, their last show was in February of 2019, which meant that since that time they had released multiple albums as a duo as well as different solo projects since then, so they were fired up and ready to get into it. Even though there was plenty of new material to get through, they also went back into their catalog a bit, with billy woods noting at one point that they just played three straight tracks from their 2018 album, Paraffin. They also made it a point to shout out some of the producers they worked with along the way, such as Small Pro from Philadelphia. As you might imagine, it was an intense show, with dense, pounding beats and two emcees in woods and ELUCID who just constantly bring the hammer on the mic with their heavy lived truths. It wasn't your typical party atmosphere to end a festival, but it was a unique and rewarding experience to say the least.
Previous: Uncommon Nasa - Only Child
Next: Uncommon Nasa - Interview - 6-30-21