Kendra Morris - I Am What I'm Waiting For
Written by Chi Chi Thalken on August 29, 2023
Kendra Morris is an artist from New York who had an initial breakthrough in the early 2010s with a couple of albums put out on Wax Poetics. After finding her career a little bit of a limbo for a few years, Morris made a bold return to the spotlight in 2022 with the release of Nine Lives. After revisiting and expanding her self-released EP Babble earlier this year, Morris now returns with a new full-length album, I Am What I'm Waiting For.
Going into this album, Morris knew she needed to switch things up a little, so she enlisted the help of producer Torbitt Schwartz, aka Little Shalimar, someone who has worked with acts like Chin Chin and Run the Jewels, just to name a couple. Morris also started picking up the guitar again and pulled out some older songs and began to rework them, just getting herself out of her comfort zone and trying to get some new perspective on her material. All of this pushing of herself has paid off on this album. Morris could have run back another retro-soul-with-a-touch-of-hip-hop album, and it would have been great. Instead, Morris has given us her most expansive and inventive album to date. That soul sound is still the base of the album, but we're weaving in everything from indie-pop to psychedelic rock to doo wop to hip hop and Latin rhythms. It might sound a little all over the map on paper, but in practice it works incredibly well. For one, you have the big voice and personality of Morris leading the way, who gets to show you all her different sides on the mic, from being bold and sassy to raw and vulnerable to playful and fun and back again. It's also that Morris and Schwartz always find the right balance in sounds, and everything is done with purpose, and all the different influences are deployed at just the right moments to create this musical conversation within the album. When you listen to the album, you'll get all these little surprises along the way that will perk your ears up at these unexpected moments, but you'll never be so jarred that you wonder why they made that choice. It always works, no matter which direction they have zagged at any given moment.
I Am What I'm Waiting For is another great step in the career of Kendra Morris. She had a great return to form with Nine Lives, and she could have easily just given us Nine Lives 2, but instead she forced herself outside of her comfort zone and got her creative juices flowing. In doing so, she's given us her most unique album to date.
| | |
| --- | --- |
| Title: | Kendra Morris - I Am What I'm Waiting For |
| Label: | Karma Chief Records |
| Year: | 2023 |
| Rating: | 9/10 |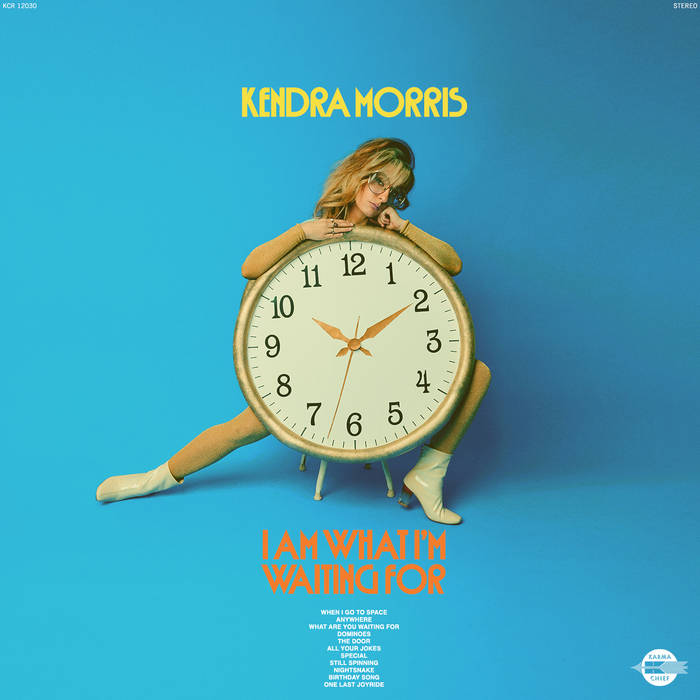 Previous: Danger Mouse & Jemini - Born Again
Next: Fat Tony & Taydex - I Will Make a Baby in This Damn Economy