trog'low - Midnight Calisthenics
Written by Chi Chi Thalken on April 28, 2021
trog'low might not be a name you recognize, but the Toronto producer has been releasing music for ten years now, slowly catching ears and earning the respect of those that have come across his music. Most recently, he participated in Ian Urbina's Outlaw Ocean project, contributing the EP Kaifū. Now he's teamed up with Los Angeles label Cold Busted to release his latest album, Midnight Calisthenics.
When you do something really well, you don't always have to do something new. In the case of Midnight Calisthenics, trog'low isn't giving us a new idea when it comes to music - he's just giving us a lot of instrumental boom bap built off of vintage jazz samples. It's been done before, and it will be done again. The reason people keep going back to this well, though, is because when it's done well, you get some really enjoyable music. And on Midnight Calisthenics, trog'low is doing this exceptionally well. His flips are clever, but most importantly, his grooves are just undeniable. Before you have time to listen to the album intellectually, trog'low has already sucked you in with the feeling of the album, just grabbing a hold of you with these warm midtempo grooves that will have your head nodding before you even understand what's happening. On top of that, trog'low does a great job of developing the individual tracks and arranging the album so that you never get bored. He might switch up the rhythmic patterns, he might sample a different instrumental combination, or something else, but he knows that he has to keep things varied for this to work over the course of an album, and that is does.
Midnight Calisthenics is a simple enough formula on paper, but because so many people have used this formula, it's even harder to pull off and stand apart when you use it in 2021. However, trog'low has done just that with this album, making his jazz-based boom bap stand apart just by taking the time to do it right and with funk and passion.
| | |
| --- | --- |
| Title: | trog'low - Midnight Calisthenics |
| Label: | Cold Busted |
| Year: | 2021 |
| Rating: | 8/10 |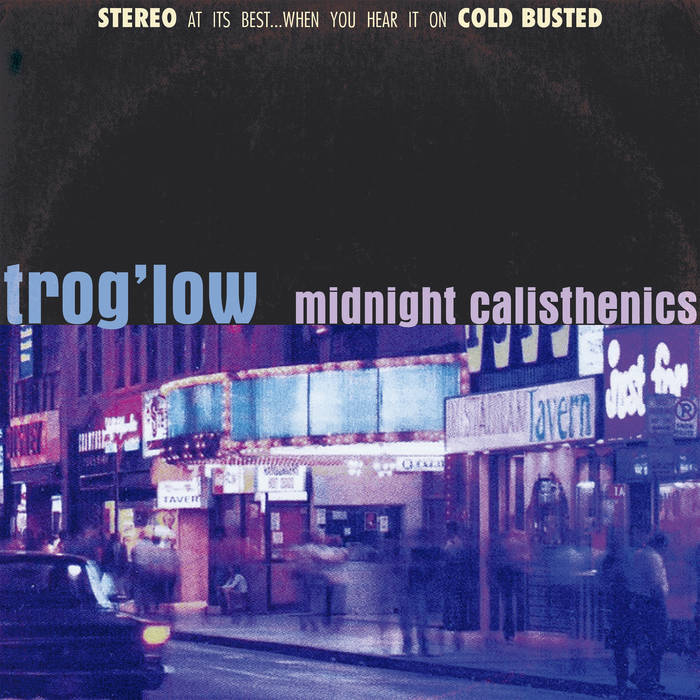 Previous: Perseph One - Zenith
Next: Flupke - IOAHI