Tino & Marrrtin - La Pie Bavarde
Written by Chi Chi Thalken on December 7, 2022
Tino is an emcee from Dayton, Ohio who has been putting out music for the past ten years. Just this past November, he released his seventh solo album, Midwest Sorrow. Now he has teamed up with French producer Marrrtin to release a new EP, La Pie Bavarde.
Marrrtin is a producer who has been part of the French hip hop scene for the last two decades, and his resume is extensive. If you haven't come across his music before, though, don't worry, because a project like this EP is the perfect way for him to cross over to an American audience. That's because his beats are really funky, with lots of soul-sampling boom bap goodness to go around, and the pockets he creates for Tino to step to the mic and do his thing are absolutely fantastic. A similar case can be made for Tino as well with this EP, because you are getting a really well-rounded look at him as an emcee in the course of just seven songs. So if you haven't spent the time with his music before, this is a great place to start with him as well. You're getting some clever trash talk and you can get a great sense of how he can rock the crowd live, but you're also getting some really vivid storytelling, whether it be a third-person crime narrative, or a first-person autobiographical tale about how Tino found his way as a hip hop artist, and how it's helped him grow into himself. He's also delivering really memorable hooks, and his technical skills and the way that he is coming at you with different flows to match Marrrtin's production is really impressive. This is just exactly what you want out of a collaboration like this - an emcee and producer finding great chemistry with each other and making great hip hop in the process.
Marrrtin and Tino might come from two very different places, but in the end, they are both veteran hip hop artists. They knew that they had chemistry when they started to work together, and the finished product is better than we could have hoped for. It's funky, it's soulful, it's fun, but it also delivers on depth and creativity. It's an incredibly well-rounded EP that will stick with you.
| | |
| --- | --- |
| Title: | Tino & Marrrtin - La Pie Bavarde |
| Label: | Stereophonk Records |
| Year: | 2022 |
| Rating: | 8/10 |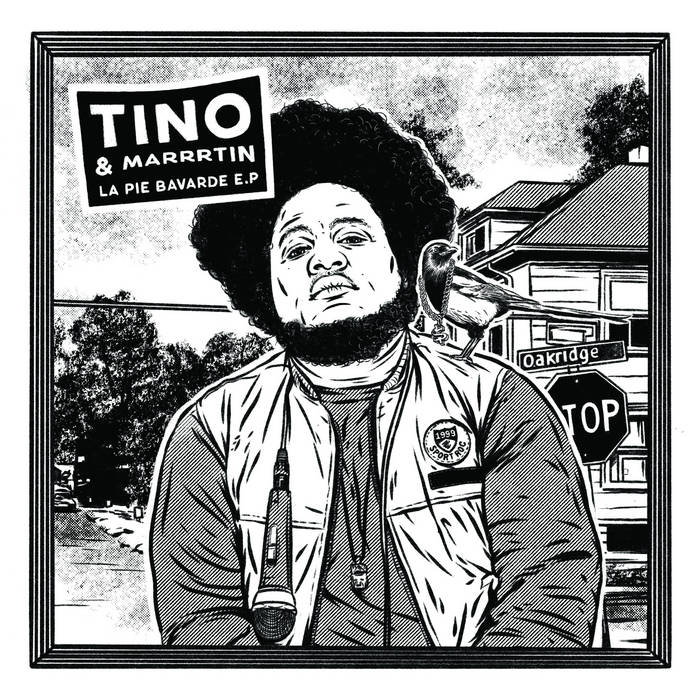 Previous: Oscar Goldman - Oscar Goldman
Next: VLTR KMBT - VLTR KMBT