Sure Fire Soul Ensemble - Live at Panama 66
Written by Chi Chi Thalken on May 1, 2023
The Sure Fire Soul Ensemble are a soul/funk outfit from San Diego who have been going strong for about a decade now. They have released four studio LPs to date, with the latest, Step Down, coming out just one year ago. Now they are switching things up and releasing a live album, Live at Panama 66.
Live at Panama 66 was recorded on Mother's Day of 2019 at Panama 66, in Balboa Park, San Diego. Now, to have a successful live album, there are two main requirements. One, you need an act with a dynamic live show. Two, you need an engineer who can capture a recording that is high quality, yet retains that "live" energy. On the first count, The Sure Fire Soul Ensemble are a tight soul/funk group with some stellar musicians, and they know how to put on a live show that will get things cooking. On the second count, engineers Jesse Orlando and Tim Felten (who is also the keyboardist/bandleader) did an excellent job of recording the performance, with Felten mixing it, and JJ Golden mastering the project. When you put it all together, you have all the right ingredients for a great live album. If you've spent the time with their previous albums, you know they have the songs, and now you get to appreciate how these songs come to life in a live setting. You have a killer rhythm section that can lay down some really tight and funky grooves, and you've got dynamic horns like Willi Fleming on trombone, Jesse Audelo on sax/flute, and Travis Klein on tenor sax, who can all wail, and some of the solos they play really help take the energy level through the roof. It's a fun party from start to finish, with no filler.
Live at Panama 66 gives The Sure Fire Soul Ensemble just the thing missing from their catalogue – a killer live album. Now you can enjoy what a dynamic live act they've become over the years with a tight nine-song set that will get you feet moving and your hips shaking.
| | |
| --- | --- |
| Title: | Sure Fire Soul Ensemble - Live at Panama 66 |
| Label: | S/R |
| Year: | 2023 |
| Rating: | 8/10 |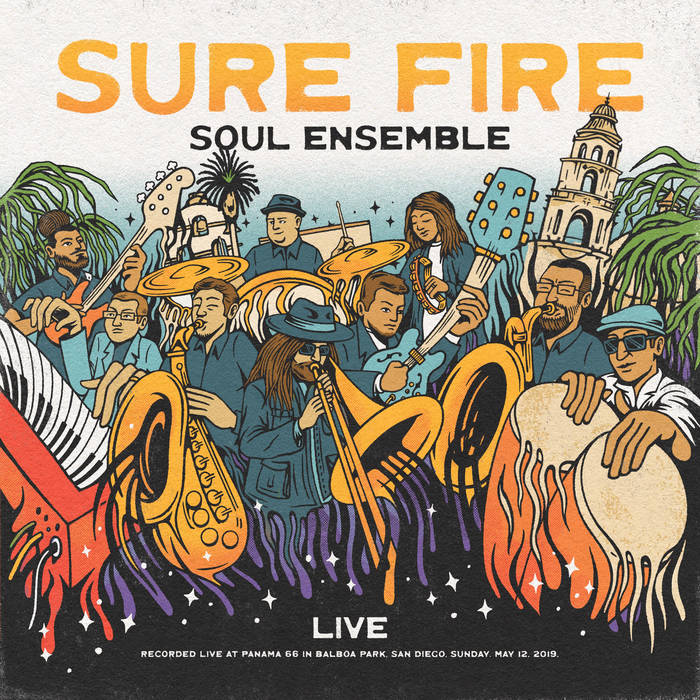 Previous: Waxfed - Waxfed
Next: Lonnie Liston Smith, Adrian Younge, & Ali Shaheed Muhammad JID017