Lonnie Liston Smith, Adrian Younge, & Ali Shaheed Muhammad JID017
Written by Chi Chi Thalken on May 1, 2023
Jazz is Dead is an imprint launched by Adrian Younge and Ali Shaheed Muhammad at the beginning of 2020, with the mission of bringing older jazz musicians into the studio to write and record new original material. Since that launch, we've gotten albums from Roy Ayers, Brian Jackson, and Jean Carne, just to name a few. Most recently, just in January, we got an album from Wendell Harrison and Phil Ranelin. Now we get an album from yet another legend, Lonnie Liston Smith.
Lonnie Liston Smith is originally from Richmond, but he moved to New York as a young man in the early '60s, and soon found himself playing piano with the likes of Roland Kirk and Art Blakey's Jazz Messengers. It was in 1968, however, when he joined up with Pharoah Sanders that he started to experiment with electronic keyboards and began to find his signature sound. He went solo in 1973, which is when he really made his mark in terms of pioneering fusion and smooth jazz. It's this sound that we're picking up on with JID017. For the album, Smith is moving between acoustic piano and Fender Rhodes, often with Adrian Younge or Ali Shaheed Muhammad supplementing on Rhodes or B-3. That sound is then filled out with sax, guitar, clavinet, vibraphone, mellotron, auto-harp, bass, and drums. This all comes together to create that smooth cosmic soul-jazz that Lonnie Liston Smith is known for, where gospel, R&B, and jazz meet in outer space. The music just soars and floats around your head, a beautiful trip that is constantly unfolding all around you. On top of that, we get guest vocals from Loren Odom, who takes us to church on "Love Brings Happiness," "Cosmic Changes," "Love Can Be," and "A New Spring," singing in this beautiful high register that pushes the music further into the clouds.
Jazz Is Dead continues to do great work and giving these legends a chance to shine once again, and Lonnie Liston Smith is no exception. He sounds as good as he ever has, and the supporting cast puts him in just the right position to succeed.
| | |
| --- | --- |
| Title: | Lonnie Liston Smith, Adrian Younge, & Ali Shaheed Muhammad - JID017 |
| Label: | Jazz is Dead |
| Year: | 2023 |
| Rating: | 8/10 |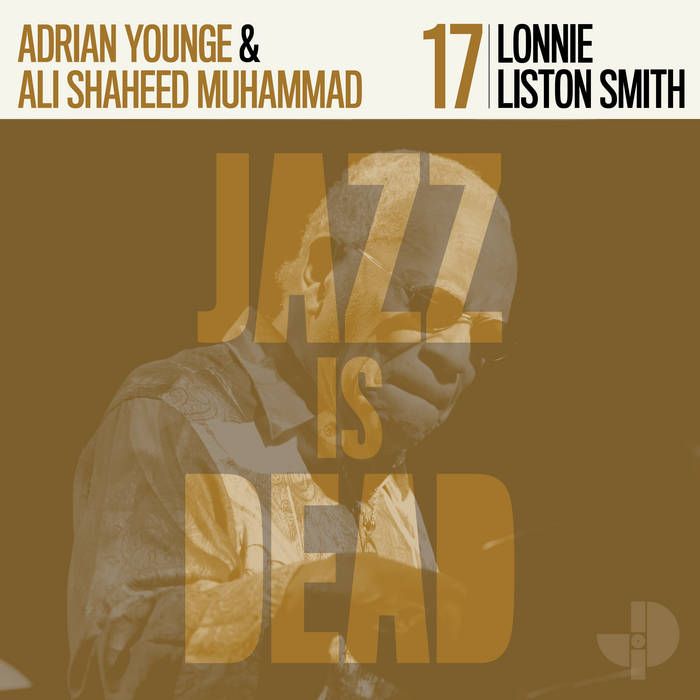 Previous: Sure Fire Soul Ensemble - Live at Panama 66
Next: Harrison - Birds, Bees, The Clouds & The Trees