Spoken Nerd & Juan Cosby - GRAPES
Written by Chi Chi Thalken on October 11, 2021
Spoken Nerd is an emcee from Nashville who has been releasing music since the mid '00s. His last full-length album, I Need a Friend Like You, came out on Fake Four in 2018. Now he has teamed up with Cincinnati producer Juan Cosby to release a new album, GRAPES.
The seed for this album apparently sprung from the excitement that Spoken Nerd felt from hearing the rumors of a possible Tales From the Crypt reboot, and the wheels got spinning in his head to do a themed mixtape, so he reached out to Cosby to see if he'd be down to make some spooky beats for the project. As it turns out, this rumor proved to be untrue, but the creative juices were already flowing, and Spoken Nerd and Juan Cosby kept working together anyway and ended up with GRAPES. This origin story makes sense when you listen to GRAPES, because there is a certain level of eerie synth pop to Cosby's production, like if you took a Carpenter score, made it a bit more danceable, and then put some raps over all of it. This is balanced by some classic underground hip hop beats, along with a touch of DIY punk as well, giving the album this unique sound to itself. This fits Spoken Nerd perfectly, who is able to navigate moments of really technically proficient rapping to some more deliberately paced pop friendly moments to some shout-at-the-top-of-your-lungs punk moments of catharsis. Over the course of the album, they are touching on all sorts of different points of life, from the indie hip hop hustle to the trapping of fake friends to social and political observations to some moments of just nerding out and having fun with it. You also get a few guest appearances from MC Homeless, Isaac Stinson, Darko the Super, and 247, but it's E-Turn's verse on "Sacrifice for Destruction" that nearly steals the whole damn album it's so good.
GRAPES is an album from two friends who have great chemistry together in Spoken Nerd and Juan Cosby. They craft a sound is accessible and fun to listen to, while also maintaining enough weirdness and nerdiness to remain true to themselves and their hardcore fans. More than anything, this is just a fun listen from start to finish.
| | |
| --- | --- |
| Title: | sSpoken Nerd & Juan Cosby - GRAPES |
| Label: | Audio Recon |
| Year: | 2021 |
| Rating: | 8/10 |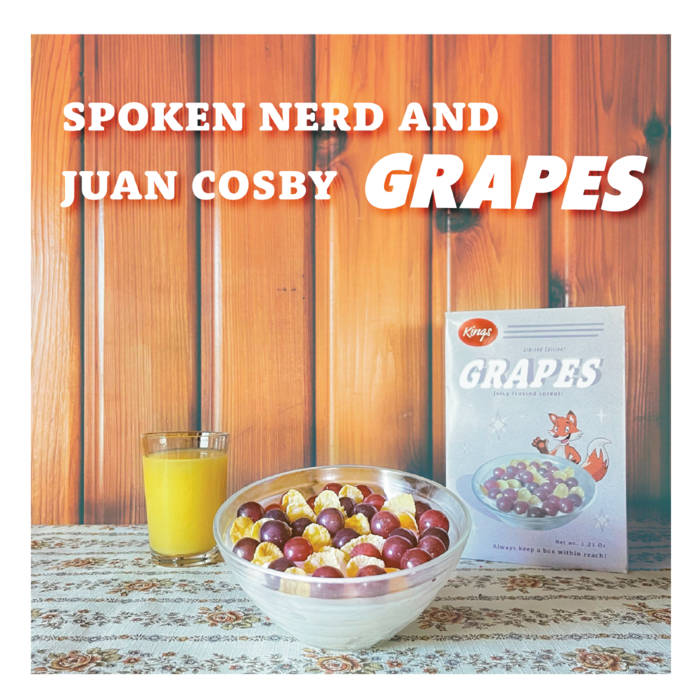 Previous: DJ Nu-Mark - Run for Cover
Next: Steel Tipped Dove - Call Me When Youre Outside