Snotty Nose Rez Kids - I'm Good, HBU?
Written by Chi Chi Thalken on December 8, 2022
Snotty Nose Rez Kids are a duo from Vancouver who have been making a lot of noise over the last five years. They continued their ascent last year with their excellent full-length album, Life After. Now they have come back with a new EP, I'm Good, HBU?
After making a leap with a big statement album like Life After, it was always going to be interesting to see what Young D and Yung Trybez were going to do next. As it turns out, they decided to reset and just have some fun with it and give themselves a chance to breath. This EP is full of trap beats and lots of trash talking, and the general vibe is just SNRK just letting loose and reminding themselves why they love hip hop. Of course, they are two young men of indigenous heritage, so even when they are making a supposedly "light" project, there are going to be ways in which the inherently political nature of their existence is going to come through in their trash talking and messing around. This could be in the form of the intro and outro skits, in which a radio deejay sounds clueless as he introduces them and is nervous about coming off as offensive, or it could be the way they declaratively claim space with a song like "Paint the Town Red." Speaking of, while there isn't a weak song on the EP, things definitely turn up to 11 when you get to "Paint the Town Red." Everything just lines up perfectly here. This is a song that is going to sound amazing when you drive around and blast it out your windows, and I can only imagine how much this is going to kill when they perform it live. On top of all this, they also find room to get some friends in on the fun and shine a light on some talent you might not be aware of, with DillanPonders and Polo Brian each taking their turn to add a little extra flavor to the EP.
I'm Good, HBU? is a nice way for Snotty Nose Rez Kids to follow up Life After. It's fun, full of bangers, and it doesn't waste any space. The duo is sure to be back with a more ambitious project in the near future, but in the meantime, have fun listening to them just let loose for a minute.
| | |
| --- | --- |
| Title: | Snotty Nose Rez Kids - I'm Good, HBU? |
| Label: | S/R |
| Year: | 2022 |
| Rating: | 8/10 |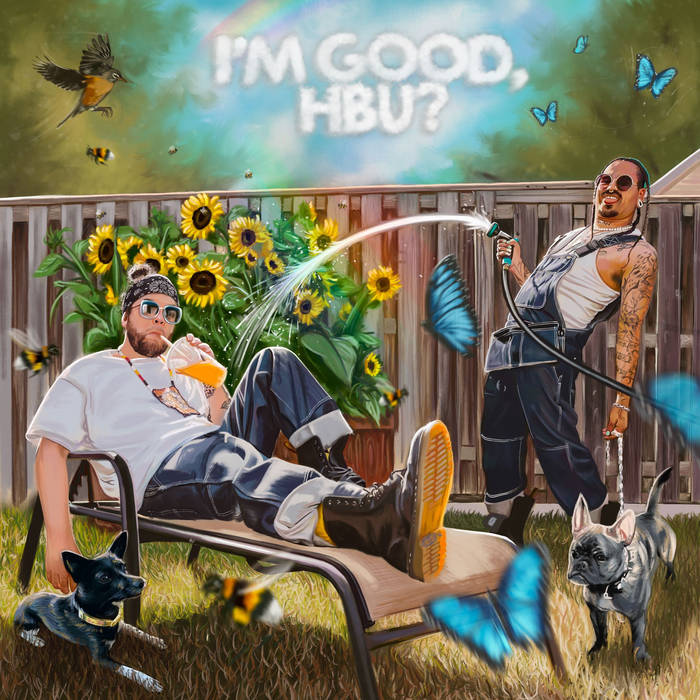 Previous: VLTR KMBT - VLTR KMBT
Next: Dusty Patches - Newtok