Small Professor - the seven sins (still haunt me at night) [v.7]
Written by Chi Chi Thalken on May 27, 2021
Small Professor is a producer from Philly who has been releasing music for over a decade. He's collaborated with everyone from Curly Castro to Guilty Simpson, and he's been part of groups like Them That Do. Last year, we got familiar with a lot of his solo work through his series of A Jawn Supreme releases. Now he's come back with a new project with a different angle, the seven sins (still haunt me at night) [v.7].
In case you're not familiar with Small Professor, you'll get a crash course over the first two tracks, as he cuts in vocal clips that reference some classic '90s hip hop artists while laying down some smooth laid back beats built around some jazzy piano and funky drums. As you work your way through these seven tracks, you can see the clever ways in which he references the seven sins and ties the project together, and that's all fun and interesting, but really this is about the high caliber of musicality that Small Pro brings to these soulful East Coast beats. It's hard not to laugh with all of the giggling that happens on the opening track, "bring back tupac, son," and the whole EP is solid from start to finish. My personal favorite, though, is "got you lost in a love zone," where Small Pro does a great job inverting this sampled Miami bass-ish rhythm and using these vocal samples and psychedelic guitar to slow things down and space things out, resulting in this really blissful soundscape that is still funky enough and moving that you can never truly zone out while listening to it.
Smal Professor has made a habit over the years of dropping these short, interesting instrumental projects over the years, and the seven sins (still haunt me at night) [v.7] is no exception. He keeps finding all these interesting ways to subvert his own general style and keep his listeners on their toes.
| | |
| --- | --- |
| Title: | Small Professor - the seven sins (still haunt me at night) [v.7] |
| Label: | S/R |
| Year: | 2021 |
| Rating: | 8/10 |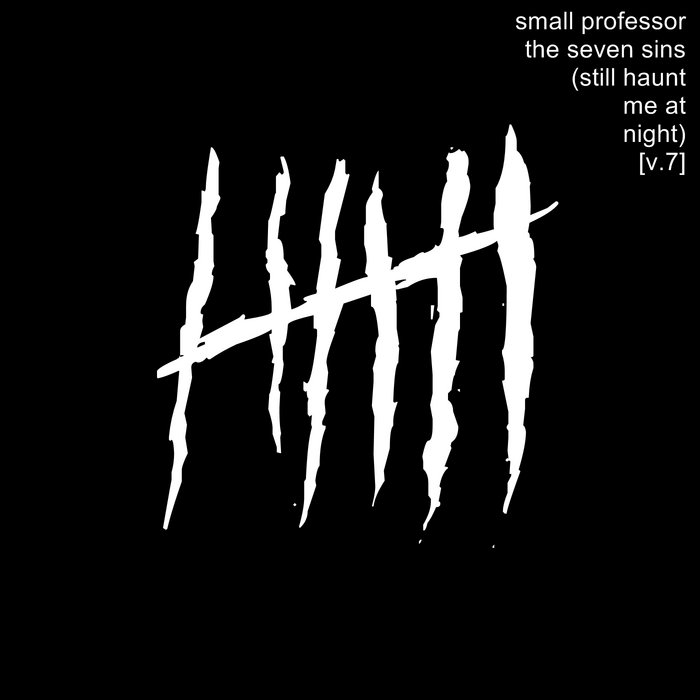 Previous: Ol' Burger Beats - Monologue
Next: Pressure Fit, Darius Christian - Wake and Tape