Sleep Sinatra, The Architect - Battle of the Angelz
Written by Chi Chi Thalken on March 16, 2023
Sleep Sinatra is an artist from Lincoln, Nebraska who has been releasing music for about a decade now. In that time, he's worked with people like Ohbliv, Stik Figa, and August Fanon, just to name a few. Now he has teamed up with producer The Architect to give us a new EP, Battle of the Angelz.
The Architect might not be a name that you immediately recognize, but his career in the Bay Area goes back to the early '90s, when he was part of the group Homeliss Derelix, who put out a couple of 12" on a new label called Stones Throw. After becoming disillusioned with hip hop and the music industry, he took off some time from making music starting the mid-2000s, but he was eventually drawn back into it in the mid-2010s. Since that time, he's worked on projects with Bay Area legends A-Plus, Planet Asia, and Equipto. On paper, you might think that Sinatra's Heartland flow and Architect's West Coast boom bap might not mix, but both of these artists get to the heart of what makes hip hop great, which is cooking up funky rhythms and laying down dope personal lyricism. So while this might sound a little different than other Sinatra projects sonically, you're still getting his rhymes about being a family man and navigating the world as a Black man in Nebraska, mixed in with some philosophical rhymes and classic shit talking. On Architect's side of things, the flows and approach on the mic might be a little different than the West Coast emcees that he's usually working with, but that core philosophy is still there, and the soulful vibes of his beats match the soulful lyricism coming from Sinatra.
It's not a pairing that I would have predicted, but Sleep Sinatra and The Architect have come together to make some dope hip hop on Battle of the Angelz. It's classic underground hip hop, with creativity and passion flowing forth, and great chemistry between the two artists.
| | |
| --- | --- |
| Title: | Sleep Sinatra, The Architect - Battle of the Angelz |
| Label: | S/R |
| Year: | 2023 |
| Rating: | 8/10 |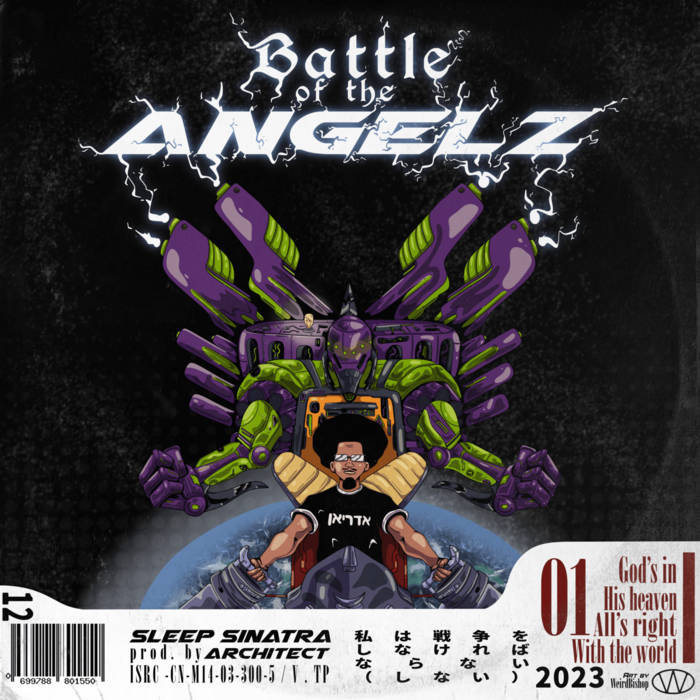 Previous: Del Jones - Court Is Closed
Next: sleepingdogs - i'm fakin' my own death just to get some rest