Sam Redmore - Universal Vibrations
Written by Chi Chi Thalken on September 22, 2022
Sam Redmore is a deejay/producer from Birmingham, UK who has been making a name for himself over the last few years with his remixes, putting his spin on artists like Amp Fiddler, Renegade Brass Band, and DJ Vadim, just to name a few. Starting in the fall of last year, he started to tease us with a few singles, hinting at something bigger on the horizon. Now his debut album is finally here courtesy of Jalapeno Records, Universal Vibrations.
One of the first things you can tell from listening to Universal Vibrations is that Redmore is a deejay who has spent some time spinning records and observing to what gets people on the dance floor and learning what different music he can weave together and keep everyone on the dance floor. I say that because over the course of this album, we are getting everything from disco to hip hop to Afrobeat to cumbia and more, and Redmore is skillfully sequencing and mixing everything so that there is a musical throughline and the party keeps going. He's also bringing in a bunch of guests to spice things up and connect with the audience, from Lumi HD, SANITY, Mr Auden Allen, Renegade Brass Band, Ellie Coleman, and Andrea Brown. Much like he would with a live deejay set, Redmore is skillfully deploying each of these guest spots so that everyone gets to shine, but also so the musical conversation continues with ease. The album is just a feel good time that will make you want to turn things up and keep on dancing. That is also why the only track that I don't one hundred percent enjoy is the closer, "So Real." Featuring Lumi HD, the track is something of a reinterpretation of Sylvester's disco barnburner, "You Make Me Feel (Mighty Real)." In theory, this is a great choice, since that song is such an epic, high energy, uptempo number, it is hard to top it and works great a closer. In this case, however, Redmore and Lumi HD are putting a slow gospel twist on the song. It doesn't sound bad, but it does take the wind out of the sails of the album, which had been really cooking up until this point. It's just really somber in a way that doesn't fit with the flow of the rest of the album.
It's not perfect, but Sam Redmore makes a strong debut with Universal Vibrations. He brings a lot of different music to the table with a lot of different guests, and he puts it all in conversation and he makes it fun and danceable. It's only going to get better from here as he builds from this foundation.
| | |
| --- | --- |
| Title: | Sam Redmore - Universal Vibrations |
| Label: | Jalapeno Records |
| Year: | 2022 |
| Rating: | 8/10 |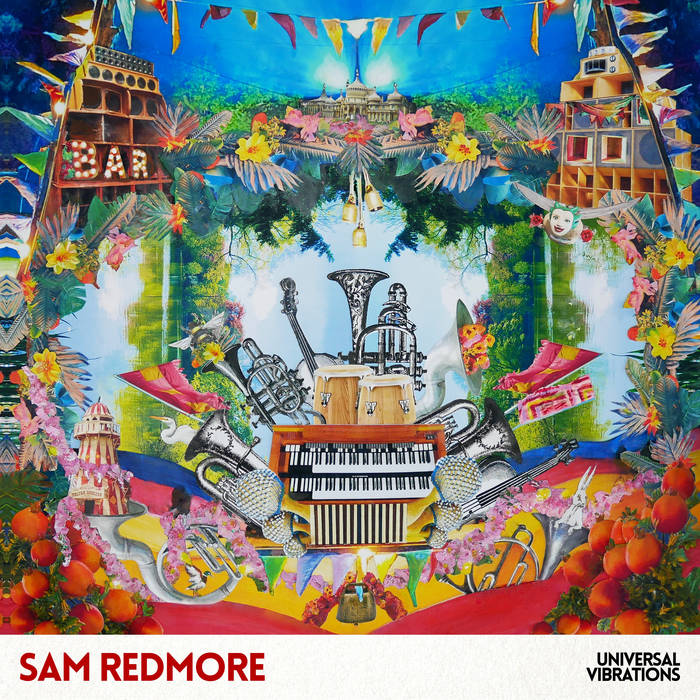 Previous: Zilla Rocca & andrew - Don't Wait for Me to Leave
Next: Scone Cash Players - Brooklyn to Brooklin