Rob Cave & Small Professor - Respect Wildlife
Written by Chi Chi Thalken on September 14, 2022
There are some artists that are having a nice 2022, and then there's Small Professor. The Philly producer has already released three instrumental collections, an album with AJ Suede, an album with Vic Spencer, an album with Torito, and contributed to a Wrecking Crew album. That would be more than enough for most people, but now he's right back with another full-length collaborative album, this time with Rob Cave, called Respect Wildlife.
Rob Cave is an emcee from Brooklyn who is part of the Lessondary crew alongside ELUCID, Von Pea, Donwill, Che Grand, Jermiside, Ilyas Nashid, and Aeon. He's been around for a minute, and he's contributed to group projects, and he's made some collaborative EPs with people like The Other Guys and Che Grand. The thing that's been missing from his resume, though, has been that statement full-length album. That project that when you run into someone that's never heard of Rob Cave, you can go, "Listen to this! Start here and you'll get it!" That's where Small Professor steps in. With Respect Wildlife, we finally get that project. From the opening track, "Iron Horse," featuring Dallas Penn, where we have Cave interacting with Small Professor's production to create a back and forth between his words and some chopped up samples, you know you are in for a project that is reaching a little deeper than most. Small Professor isn't getting too flashy with the beats, instead working in a really understated and subtle fashion that lifts up Rob Cave and pushes him to dig deep and create something really meaningful, with this soulful, jazzy East Coast boom bap style. Cave answers that call by coming up with this theme that is reflected in the title of the album, creating meaningful discussion about humans' place in the world, and how we interact with not only with nature, but also with each other. In lesser hands, this might become a really pretentious or abstract project, but Cave does an excellent job in balancing some playful and entertaining rhymes with some more serious moments. He always makes sure that he is barred up, giving you a lot to unpack with each line, and he gives you memorable hooks. It's a well-rounded album where you might be having fun on one track, getting fired up about a social issue on the next, and then getting deep inside your head and feeling all the feelings on the next. There's a lot to dig into, but for me it doesn't get much better than "God's Creatures," featuring Jenna Camille, which finds Cave creating this really honest and personal journey about his relationship with organized religion and where his beliefs are today. It's a song that at first seems a little clever, and then you realize that Cave is really going there with his lyricism, and you start to think about your own journey as you listen along.
Respect Wildlife is an excellent collaboration between Rob Cave and Small Professor. They have incredible chemistry together, and in working together they've created a really smart and soulful album that will grow on you with each listen.
| | |
| --- | --- |
| Title: | Rob Cave & Small Professor - Respect Wildlife |
| Label: | HiPNOTT |
| Year: | 2022 |
| Rating: | 9/10 |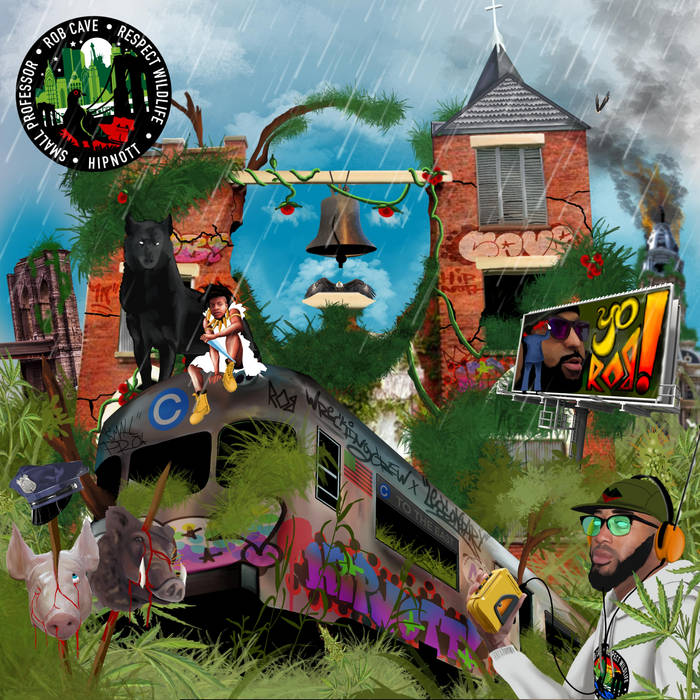 Previous: C.Shreve the Professor - Gymnastics
Next: killer kane - BIG MAN, little table