Quiz Ten - Prescription Handbills
Written by Chi Chi Thalken on June 14, 2021
Pen Thief Records is a label based in Berlin that is committed to bring you some of the best overlooked underground hip hop releases via cassette and digital releases. Most recently, this has meant experimental projects from the likes of Noblonski, Pasquale, and Kitz Willman. Now they've dug a little bit deeper for their latest release from emcee Quiz Ten, Prescription Handbills.
Now, there is a very good chance right now that you are asking, "Who is Quiz Ten?" And that's fair, because this emcee from the Pacific Northwest has had little output and doesn't really have an online presence. He was in a group called All Urban Outfield alongside p.Wrecks, and he did also record under the name K Clifton, but these are also names that didn't travel much beyond their region. A few years back, Quiz Ten recorded this album, shared it with a handful of people, and then it pretty much disappeared. Not too long ago, someone shared the album with Pen Thief, and they liked it so much they started to dig and see if they could re-issue it. They finally got a hold of p.Wrecks, who went through some lengths to track down the masters and the art work so that the album could finally see the light of day. So now that it's here, what does it sound like? Well, with production by Mike Boda and scratches by Lister Higgins, you get this really dark soundscape built around midtempo beats with minor key melodies. They tend to be just a little understated, but always pushing forward with a deliberate pace and full bass lines. This sets the stage for Quiz Ten on the mic, who is more than ready to step up and deliver some really dense and clever lyricism, which he rhymes with ease and skill over the course of the album. With a nice low voice with a bit of gruff to it, he moves between abstract imagery and personal stories and critical observations of society. If you are a fan of lyricism and really want to nerd out over an emcee, there is tons to listen to, rewind, and pick apart and analyze. If you're looking for something fun and easy to listen to, maybe something with some hooks you can sing along to, this might not be the one for you. Really, the only thing holding this album back is that it does lack some variety across all twelve tracks, in terms of the tempos and rhythms of the beats and Quiz Ten's flow on the mic. By the time you get to the last track, it's just beginning to sound a little predictable.
I don't know if Quiz Ten has any desire to step back into the spotlight, or just into the recording booth. I don't know if he'll build off of what he laid down with Prescription Handbills. What I do know is that Pen Thief heard some solid underground hip hop that went deep on the lyricism and sought to preserve it, and hopefully it will find its audience.
| | |
| --- | --- |
| Title: | Quiz Ten - Prescription Handbills |
| Label: | Pen Thief Records |
| Year: | 2021 |
| Rating: | 8/10 |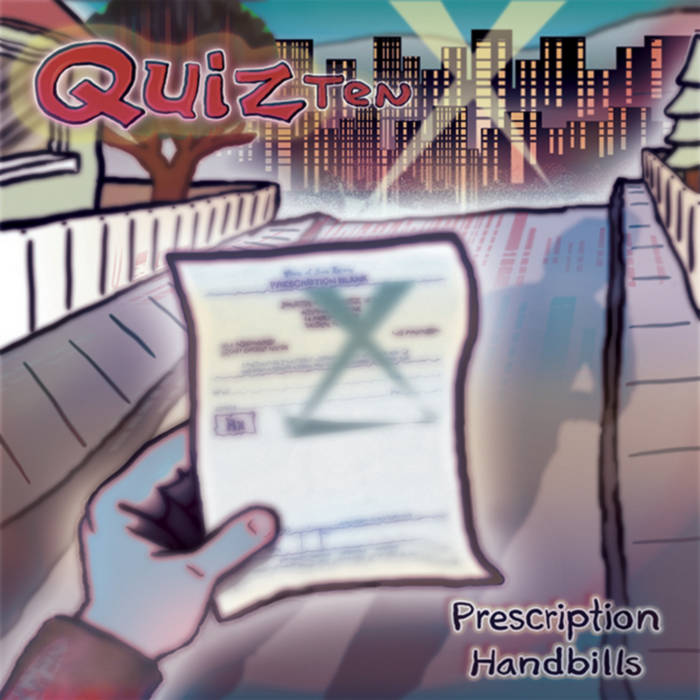 Previous: Cru Drums - Live/Work
Next: Linnil - Outlines