Cru Drums - Live/Work
Written by Chi Chi Thalken on June 11, 2021
Steve Bryant, aka Cru Jones, aka Cru the Dynamic, aka Cru Drums, is a drummer and producer from Brooklyn. Along with maintaining a solo career, he's also served as touring drummer for people like Elliott Lipp, Young & Sick, Michna, and Benzos. Two years ago, he made his debut on Young Heavy Souls with the album Cuts. Now he's back with his second album on the label, Live/Work.
It doesn't take long in listening to Live/Work to understand that Cru is a drummer, as "Wedded" hits you with some crazy rhythms that sound like they were already complex before Cru chopped up the sample and layered things in a such a way that it will take a minute to sink in just exactly what is happening. This is all well and good, but what makes Cru special and this album worth listening to is not just the technicality of it. Don't get me wrong, there are plenty of "wow" technical moments to be found on Live/Work, but beauty of the album is the way in which Cru is able to channel his virtuosity and distill it into some instrumental pop music that goes down easy and is just plain fun to listen to. The album itself was born through Cru's journey through the pandemic, first going back to basics and studying and practicing jazz drumming, but eventually leading him to attending some socially distanced jams with other jazz musicians and busking in parks with other musicians and emcees. As a result, Live/Work has some of the most "live" recording that Cru has done in his career, incorporating Nick Kadajski on sax, Joe Ancowitz on trumpet, and even vocalist Kathleen Bryant for one track. On top of all this, Cru is also showcasing some of his most well-rounded songwriting and arranging as well, really taking you through a well-curated journey through funky hip hop, drum and bass, downtempo, R&B, and jazz, often blurring the lines between genres and finding his voice where everything melds together.
It's tough to make an instrumental album that is fun and accessible while also featuring virtuosic musicianship and complex songwriting and arranging. You usually have to choose between an album that bumps, one you can vibe to, or one that you can listen to cerebrally. In the case of Live/Work, Cru Drums has given us an album that you can enjoy as a funky pop album with some tender moments, but he's also given you one of the densest and musically ambitious albums of the year that you can keep going back to and discover something new each time through. That's no easy feat.
| | |
| --- | --- |
| Title: | Cru Drums - Live/Work |
| Label: | Young Heavy Souls |
| Year: | 2021 |
| Rating: | 9/10 |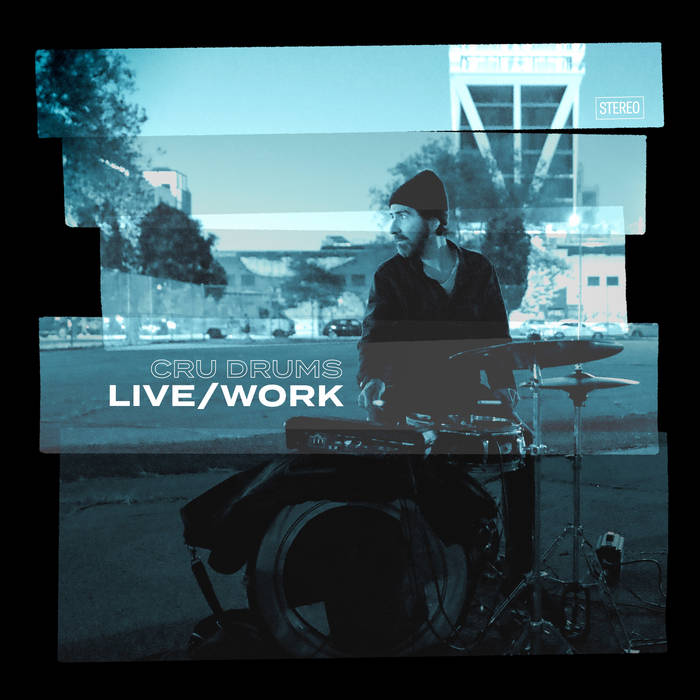 Previous: Thorts & Prayrz - Wishing Well Wishes
Next: Quiz Ten - Prescription Handbills