P.SO the Earth Tone King & 2 Hungry Bros. - Manga Americana
Written by Chi Chi Thalken on October 6, 2021
Two years ago, Brooklyn emcee P.SO The Earth Tone King teamed up with the production duo of 2 Hungry Bros. to release a project called American Anime, a record devoted to P.SO's love of comic books, sci-fi, fantasy, and of course, anime. Now they have come back with the sequel, Manga Americana.
Sometimes it's not about doing something different from everyone else, it's just picking your lane and doing it at the top level that few can touch. That's what it feels like to listen to a 2 Hungry Bros. project like this – it's that East Coast, soul-sampling boom bap that you've heard for years, but these two are just better at picking out samples, flipping them, and constructing tracks that have all of the nuance and funk to keep you on your toes and actively listening at all times. When you've got production that is hitting at that high of a level, you better bring your A-Game, and the good news is that P.SO is up to the task. As you work your way through the album, P.SO is hitting you with amazing technical flows and clever wordplay, all while weaving these narratives that jump back and forth between these fictional worlds of comic books and sci-fi and his own personal life. The beauty with this is that at some point you'll stop trying to parse out what the references are to and just start absorbing the emotional content and the keen social observations that P.SO is making. As if all this weren't enough, the album has a secret weapon in the form of emcee Likwuid, who comes in with the third heat on the mic with her lyrical skills and charisma and elevates the whole project.
Manga Americana is a fun sequel to American Anime, but don't worry if you haven't listened to the first volume yet. Just jump right in and enjoy some dope hip hop, and then you'll be inspired to go back for that initial offering from a couple of years ago.
| | |
| --- | --- |
| Title: | P.SO the Earth Tone King & 2 Hungry Bros. - Manga Americana |
| Label: | I Had An Accident Records |
| Year: | 2021 |
| Rating: | 8/10 |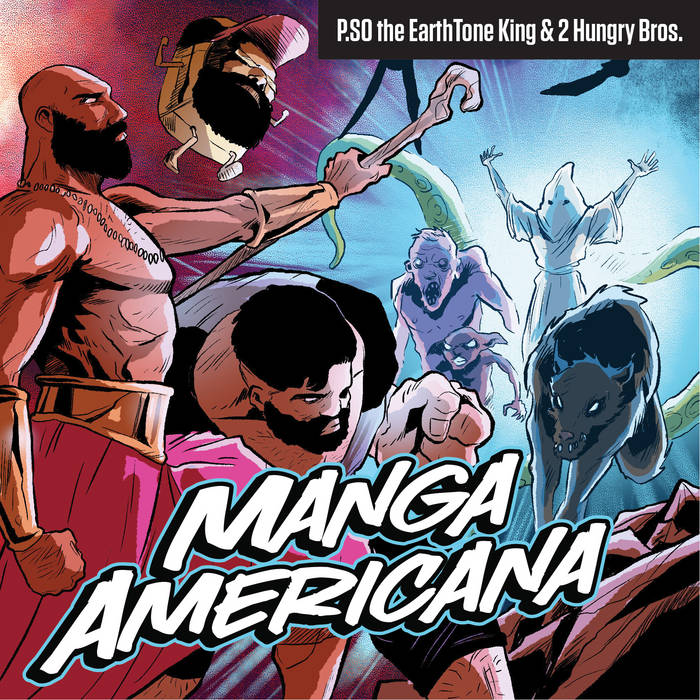 Previous: Blackliq x Mopes - Time Is the Price
Next: Sekou Cooke - Hip-Hop Architecture