Blackliq x Mopes - Time Is the Price
Written by Chi Chi Thalken on October 5, 2021
Blackliq is an emcee from Richmond, Virginia who has been really prolific over the last couple of years. Most recently, he made an appearance on the song "Party McFly," alongside Sage Francis and Jesse the Tree, which came from the new self-titled EP from Mopes, fka Prolyphic. Now he is right back with his own project produced by Mopes, Time is the Price.
Music as therapy is an idea that is revisited time and again, but nowhere is this idea more direct than on Time is the Price. If you've never spent the time with Blackliq before, don't worry, because he's laying it all out there for you on this release. Once you've listened to this album, you'll know him better than you ever thought you would. Over the course of eight dark and moody beats from Mopes, Blackliq is opening up about how his difficult childhood, which includes his dad being sent to prison on a life sentence, and how this informs his rough exterior and his rebellious personality. Just glancing at song titles like "Dumb," "Don't Ask Me," "Worst Best Friend," and "I'm Not Right," will give you a sense of a prickly personality, but as you spend the time and really listen to his lyricism, you realize that you're actually getting someone who's pouring their heart out and trying to make sense of an upbringing that left him traumatized and wondering how to build a healthy life for himself moving forward. Nothing's being done purely for shock value or to excuse his behavior. It's not an easy album to listen to as a result, but if you're willing to put in the work and really sit with the music, it's incredibly rewarding.
Time is the Price is a raw and honest project from Blackliq and Mopes. Working through these emotions and dealing with a past like Blackliq is on this album is a difficult task, but he's able to put everything out there through the music. It is incredibly therapeutic.
| | |
| --- | --- |
| Title: | bBlackliq x Mopes - Time is the Price |
| Label: | Strange Famous Records |
| Year: | 2021 |
| Rating: | 8/10 |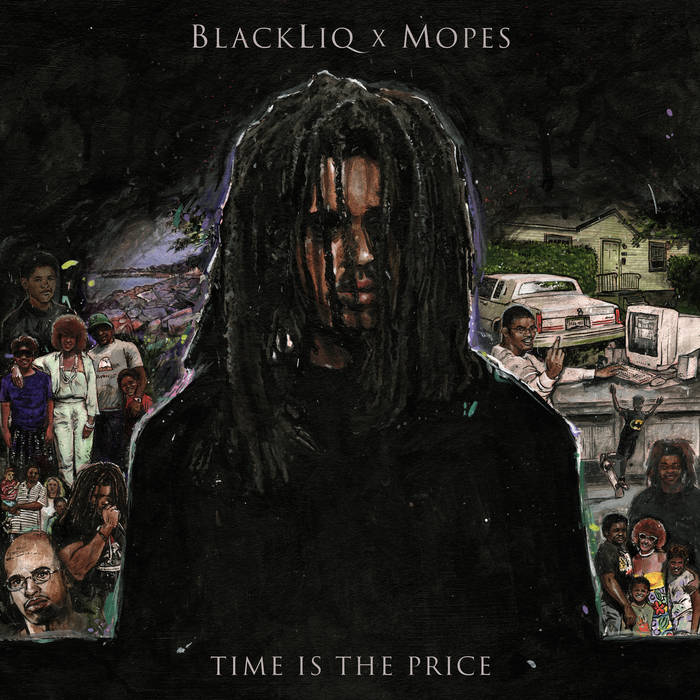 Previous: More or Les - Post Human EP
Next: P.SO the Earth Tone King & 2 Hungry Bros. - Manga Americana