Priest Da Nomad - Receipts
Written by Chi Chi Thalken on November 10, 2022
Priest Da Nomad is an artist from the DMV that has been doing this hip hop thing since the '90s. Over the years, he's worked with everyone in the scene, from Asheru to Seez Mics to Oddisee, just to name a few. His most recent album, Out Da House, came out just last year. Now he's back with a new album, Receipts.
Sometimes, when you're dealing with a veteran artist like Priest Da Nomad, you don't need them to reinvent the wheel with a new album. You just need them to come in and show everyone how it's done. And that's exactly what Priest Da Nomad is doing on Receipts. The album features production from Jon Laine, DJ Rage, Vintage, Unown, Choppy Chope Sound, Roddy Rod, Team Demo, DJ Spinna, and Priest Da Nomad himself, along with some live instrumentation featuring Kev Bright on keyboards, Dre King on trumpet, Dr. William E. Smith on sax, Wise D on bass, and cuts by DJ RBI, DJ E. Boogie, and DJ Dial Tone. Together, they are creating a sound rooted in East Coast boom bap, but they also mix in a little go go, a little reggae, and a little R&B for good measure. When you put it all together, you have an album that absolutely bumps. In fact, you're gonna want to take DJ Kool's advice on the album and turn that shit up, because "The Music Ain't Loud Enuff." This all sets the stage perfectly for Priest Da Nomad to step to the mic and show everyone that he's still got it. He's got a great voice that booms on the mic, and he knows how to rock a crowd and talk his shit. If that's all he did, this album will still be plenty entertaining. Fortunately, as you make your way through the album, we get some space for Priest Da Nomad to go deeper, and we get some nice discussion about his love for D.C., his love for hip hop culture, and his love for his friends and family. On that note, he's also showing plenty of love for others, bringing in some veteran talent like DJ Kool and DJ Spinna, but also giving some shine to younger acts from his scene like Prowess the Testament, Jenna Camille, and Deborah Bond.
Receipts didn't have to be as good as it is, but when you are doing this for the love of the music and the culture, you don't half ass a project like this, even if you've been making music for thirty years. Priest Da Nomad clearly loves what he's doing, and he puts it all into a project like this to make sure it knocks just as hard as anything he's done in his career.
| | |
| --- | --- |
| Title: | Priest Da Nomad - Receipts |
| Label: | S/R |
| Year: | 2022 |
| Rating: | 8/10 |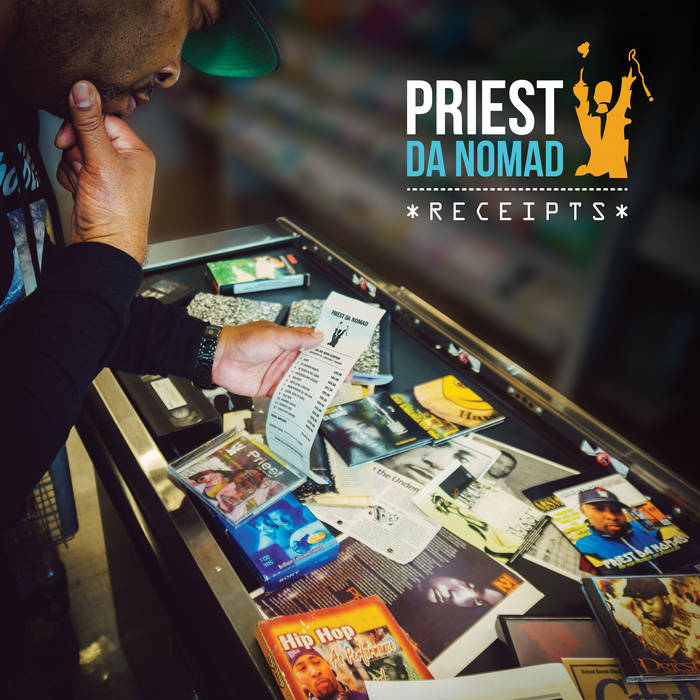 Previous: Reginald Chapman & Pressure Fit - East Williamsburg Sessions
Next: Bad Colours - Always With U