Phill Harmonix x Fresh Kils - MISCELLANEA
Written by Chi Chi Thalken on May 11, 2022
Phill Harmonix is an emcee from Phoenix, who along with a solo career that goes back over ten years ago, has been a frequent collaborator with Mega Ran over the years. Outside of some features, though, it's been a minute since we got a proper project from him. That changes with a new EP done in collaboration with Toronto producer Fresh Kils, MISCELLANEA.
Fresh Kils has had a long career making beats, and he's worked on a myriad of different projects in that time. When you work your way through his catalogue, you can see that not only does he know how to make dope beats, he knows what beats fit for different artists. In the case of Phill Harmonix, Fresh Kils nows that he's versatile enough to try a few different styles. He's giving us a few different looks, from the hard-hitting boom bap of the opening track, "Leviathan," the smooth R&B flavor of "Keep On," the arena rock-meets-M.O.P. hype of "'70s," the underground style of "Imposter" or "Technocrat," the '90s party track of "Bar It Up," or the funk of "Imposter (Remix)." Of course, the throughline here is Harmonix, who keeps it steady on the mic. He knows how to adjust his style to each beat, and when to bring a different style of lyricism. "'70s" is a verbal exorcise where Harmonix challenges himself to construct sentences out of '70s classic rock radio staples, while "Imposter" is clearly a much more personal track about battling demons while making art. Then you've got tracks like "Bar It Up," where Harmonix and Mega Ran get to have fun and get hype while throwing down some clever wordplay and do a little shit talking. It all comes together thanks to the chemistry that Kils and Harmonix have, and how much skill and charisma Harmonix has a front man on the mic.
MISCELLANEA is a short EP, clocking in just around twenty minutes, but Harmonix and Kils pack a lot into this small package. There's plenty of fun to be had, a little bit a room to get serious, and just lots of great classic hip hop to enjoy.
| | |
| --- | --- |
| Title: | Phill Harmonix x Fresh Kils - MISCELLANEA |
| Label: | Random Beats |
| Year: | 2022 |
| Rating: | 8/10 |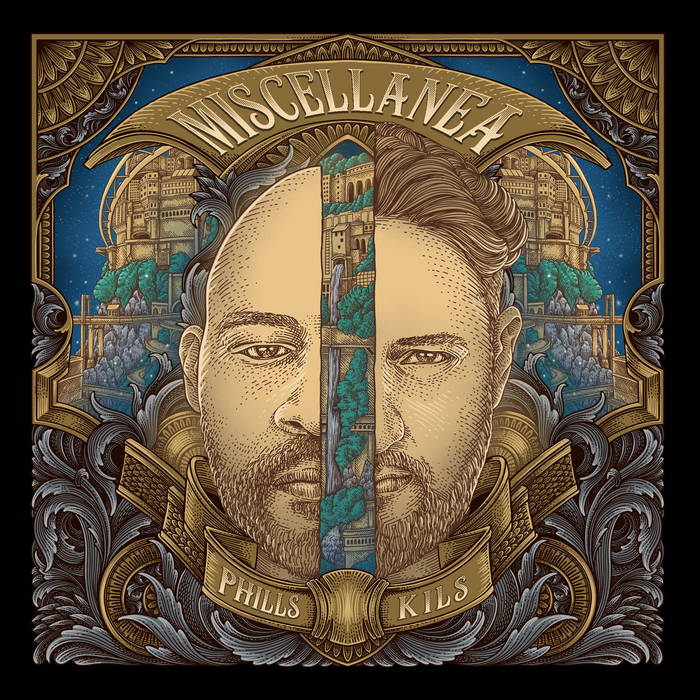 Previous: Jermiside & The Expert - The Overview Effect
Next: Libretto & Vitamin D - Rusty Bladez