Libretto & Vitamin D - Rusty Bladez
Written by Chi Chi Thalken on May 11, 2022
Libretto is an emcee from Portland, Oregon who dropped his debut album all the way back in 2004, back when Dim Mak was releasing post-punk/indie rock. Unfortunately, despite the signing, things didn't take off the way they should have amidst a changing musical landscape, and in a few years, Libretto found himself struggling to maintain and wound up in prison. Fortunately, since he got out, Libretto has found support in the way of Liquid Beat Records, also based in Portland, who have already released a couple of singles, EPs, two volumes of Gangsta Jazz albums with him, and an album with Pittsburgh producer Buscrates called Eternal Ridin'. Now Libretto is back once again, this time teaming up with legendary Seattle producer Vitamin D to release an album called Rusty Bladez.
If you look at the album cover for Rusty Bladez, you'll see a snapshot of Libretto's prison ID card. As you might imagine, losing a large chunk of his life to the Federal Penitentiary system took its toll on Libretto, and with Rusty Bladez, he's finally ready to do a deep dive and really explore how he got there, what the day to day experience was like, and how he's had to adjust back to life on the outside. This isn't entirely new subject matter within the world of hip hop, but rarely has it been covered so thoroughly, so emotionally, and so completely. Hell, it's not even new subject matter for Libretto, it's just how focused and thorough this album is. In working with Vitamin D, they are able to strike just the right tone, with D's beats finding just the right balance between sounding soulful and laid back or aggressive and dark, depending on the particular track. He knows just when to dial things back and let Libretto get into his feelings, but he also knows when the music needs that edge when Libretto needs to go in about the systemic injustices he's faced, or just the frustration involved in trying to get his life back on track. We get a few notable guests across the album, including Guilty Simpson, Jumbo (of Lifesavas), Lauren Adams (of Sol Development), Keisha Plum, Syndel, King Dusty, Soot Urus, Toni Hill, Lia, Ladybird Lex, Planet Asia, Roc Marciano, and the late great Gift of Gab. With each artist bringing in an additional voice and point of view in dealing with this subject matter, it helps listeners to see just how deeply rooted the prison industrial system is in this country, and just how disproportionately it affects the Black community. While all of this is great, what really makes this album special is just how much of himself and his experience that Libretto is willing to put out there. Libretto was a dope emcee before he went away, and he was sharp when he got out and stepped back to the mic, but now that he's combining that skill and charisma and experience with his willingness to let you walk in his shoes for seventeen tracks and take it to a level he's never done before, you really get a special listening experience. It's something that will draw you in with the first listen, but you really need to sit with it a few times to really soak it all in.
Rusty Bladez is a great album from Libretto and Vitamin D. Vitamin D is a talented and experienced producer who knows how to meet Libretto right where he's at, which allows Libretto to feel comfortable enough to open up some wounds and talk on a very real level about our criminal justice system. It's about how it not only permanently affected him, but also how everything leading up to his arrest all the way through to his rehabilitation after getting out is not just about his personal journey, it's part of a much bigger and nastier problem that we as a country need to face.
| | |
| --- | --- |
| Title: | Libretto & Vitamin D - Rusty Bladez |
| Label: | Liquid Beats |
| Year: | 2022 |
| Rating: | 9/10 |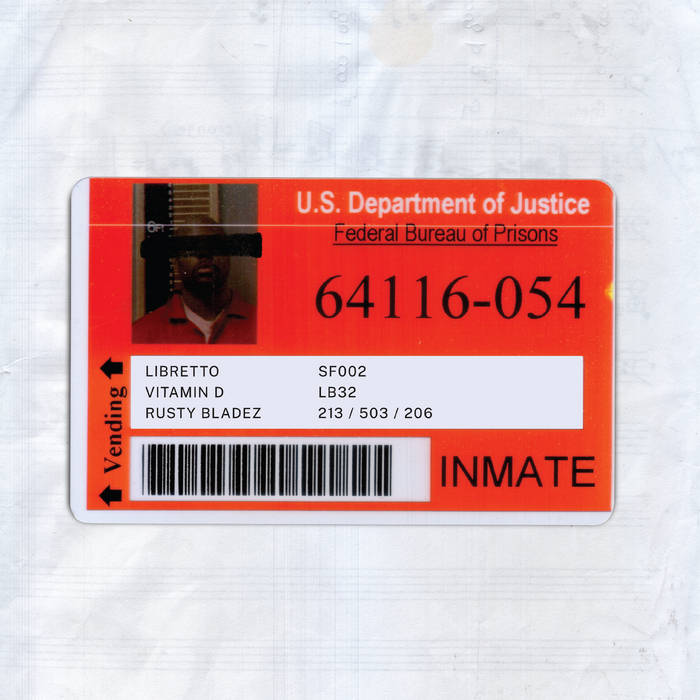 Previous: Phill Harmonix x Fresh Kils - MISCELLANEA
Next: Deantoni Parks, Technoself - Westwave 2