Nathaniel Cross - The Description Is Not The Described
Written by Chi Chi Thalken on June 28, 2021
Nathaniel Cross is a trombonist from South London who over the course of the last four years has played on records by everyone from Moses Boyd to Zara McFarlane to Sons of Kemet, as well as his brother, tubist/trombonist Theon Cross. Now he's finally stepping out on his own as a solo artist, delivering his first EP on First Word Records, The Description Is Not The Described.
For this project, Cross assembled an ensemble that includes Dylan Jones on trumpet, Richie Garrison on sax, Simon Mitchell on keys, and Saleem Raman on drums. Over the course of four songs, they sound tight as can be as we work through four original compositions from Cross. While at the core of it this is a jazz project, Cross grew up in a Caribbean British household, and as a result, he's also bringing in influences from other types of music he grew up with, such as dancehall, calypso, hip hop, gospel, and West African music. Where these influences seep into the music usually comes in the form of basslines and rhythms, bringing some funk and soul to the tracks, as well as a few production techniques that help blend the genres as well. If you look through the song titles, you'll get a sense of the range of inspirations that Cross is bringing to the table with his songwriting, from the deeply personal and emotional opening track, "Goodbye For Now," which he wrote for his recently passed father, to the personal struggles of "Charge it to the Game" and "Light in the Darkness," to the politically charged "Who Looks Inside, Awakes." With this project, Cross is not just establishing himself as a formidable trombonist, but also as a really thoughtful composer and arranger. He can put a lot of himself into the music, but he can also bring a lot of people together and bring these visions to life and really make them cook in the process.
The Description Is Not The Described is a great starting point for Nathaniel Cross's solo career. It's incredibly mature and musically challenging, yet still accessible and fun to listen to. It'll pass muster with the jazz heads, but it's got crossover appeal with Cross's feel for funk and melody.
| | |
| --- | --- |
| Title: | Nathaniel Cross - The Description Is Not The Described |
| Label: | First Word Records |
| Year: | 2021 |
| Rating: | 8/10 |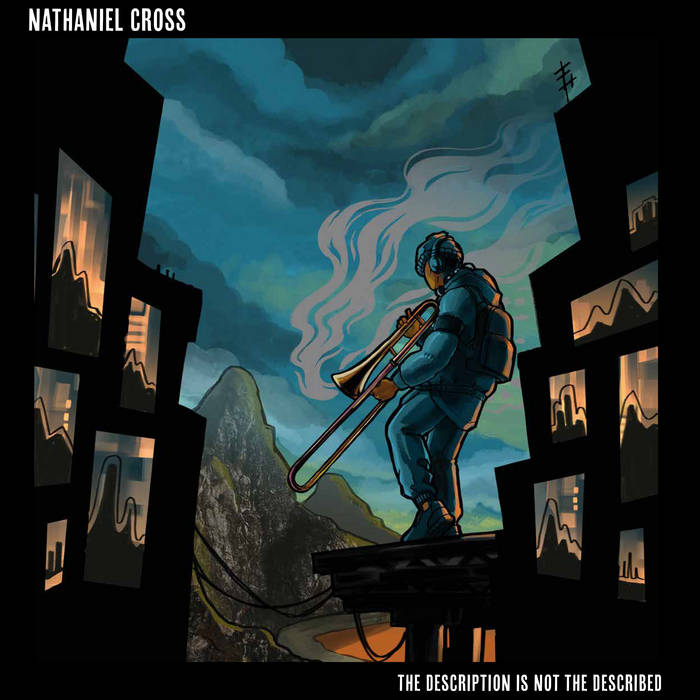 Previous: Allmos - Sound Affects, Vol. 2
Next: Sweatson Klank - Jewels From The Sun EP