Nataani Means & Antoine - Landback
Written by Chi Chi Thalken on December 9, 2021
NDN Collective is an organization with a home base in South Dakota, but they are a national organization built around the idea of spreading collective power amongst the Native American populations to exercise their inherent right to self-determination. With the idea that "Every revolution needs a soundtrack," NDN Collective is now presenting a compilation album led by Nataani Means and Antoine called Landback, giving you a look at the current state of Native American hip hop and shining a light on the issues they face.
One of the main issues facing any sort of compilation album like this is that they can often feel scattershot and unconnected from track to track. Under the leadership of Nataani Means and Antoine, however, we get an album with a contained roster and consistent production throughout, so it feels more like a big crew album as opposed to a random assortment of tracks from different artists. Over the course of the album, we're getting different combinations of Means, Antoine, Gunner Jules, Ekichetu, Tufawon, Lady Midnight, Rollie Raps, B3ar MC, and Jibri Bell. We also get an intro from Russel Means and an outro from Liv the Artist that provide beautiful endcaps to the album. The overall sound of the album is modern trap/R&B. I can't speak to why these artists all decided to go this route for this album, but it works in that the hip hop doesn't feel "othered" when you listen to it. There are moments here and there where there is a reference to traditional Native American music, but mostly this is an album where the bass rolls up on you and the drums crack. Lyrically, the artists are given enough space over the course of eighteen tracks that not everything is explicitly political all of the time, which is great because we get to experience all of these artists not just as these people fighting for a cause (which they are), but also as people with everyday feelings, maintaining relationships and building careers in music. Don't get it twisted, though – when it's time to get political, they do, and they push the issues of Native American rights to the forefront and force you to think about the troubled and buried history they have with the United States, especially when it comes to the issue of land. The whole thing gives you a really complex and nuanced look from all of the artists that is incredibly balanced in its approach.
Landback was a tall order from NDN Collective, but the artists involved in the album, especially Nataani Means and Antoine, rose to the occasion. They've delivered a soundtrack not just to the revolution, but also just a crash course in Native American hip hop and the everyday life that they all are living.
| | |
| --- | --- |
| Title: | Nataani Means & Antoine - Landback |
| Label: | NDN Collective |
| Year: | 2021 |
| Rating: | 9/10 |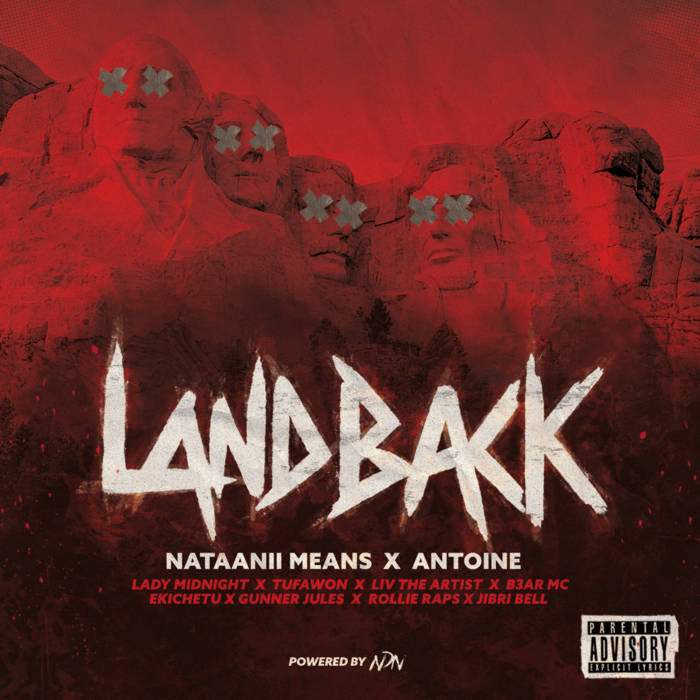 Previous: Teeth Agency - Cherry Blossom Child
Next: Akil Pratt, K1NG ELJAY & OZU8LACK - Flags on Saturn