Myka 9 - My Kaleidoscope
Written by Chi Chi Thalken on July 7, 2022
Myka 9 is a legend of the Los Angeles underground, with a career spanning over thirty years. He's been part of scenes like The Good Life and Project Blowed, and he's been in groundbreaking groups like Freestyle Fellowship and Haiku D'etat, as well as maintaining a long and fruitful solo career. Now he gets to add one more feather in his cap as Parker Pubs Press releases his book, My Kaleidoscope.
My Kaleidoscope can be broken down into three sections. The first section contains lyrics to selected works over the years. While some of these lyrics might have been available here and there, this is the first time to get them all in print and presented as poetry. In reading this section, you really get to appreciate on a technical level how good of a lyricist he is, and just how many different linguistic tools he has at his disposal. When listening to the music, sometimes it can be easy to miss just how much is going on just with the language, because Myka 9 does so much with the melody and rhythm of his delivery on the mic as well. Just having these lyrics in this form is worth the price of admission. The second section is full of photos, which capture a range of moments from throughout his career. It's not extensive, and it doesn't feel like the focus of the book, but it does make for a nice moment in the middle of the book to focus on the visuals before diving into the third section. The third and final section is where you get the oral history of Myka 9's career. It's well edited and well rounded, and even the most die-hard Myka 9 fan is sure to come across a few pieces of his career that they were unaware of. Personally, I didn't know about his time in New York in the early '90s and his lost albums with Capitol, or the time he got locked up and two other famous emcees just happened to be in the same block as him. There is also great attention paid to the development of his different skill sets and his influence over the years. This is nice to have in print, because Myka 9 didn't step to the mic fully formed, and his career has been so long and winding and he's worked with so many different cats.
My Kaleidoscope is a must have for any diehard fan of underground hip hop. There are a lot of artists who have come and gone over the years, but few have left as large of a footprint as Myka 9. It's nice to have his career documented in a book like this.
| | |
| --- | --- |
| Title: | Myka 9 - My Kaleidoscope |
| Label: | Parker Pubs Press |
| Year: | 2022 |
| Rating: | 9/10 |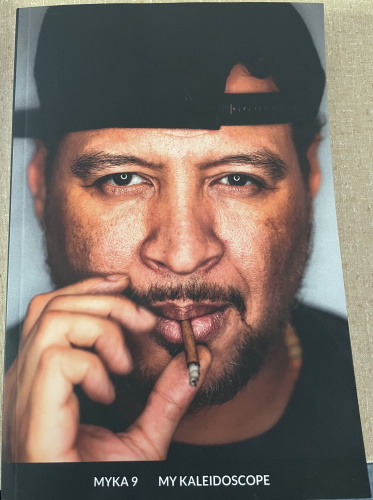 Previous: Moor Mother - Jazz Codes
Next: Femme Deadly Venoms - Femmenomenon