Femme Deadly Venoms - Femmenomenon
Written by Chi Chi Thalken on July 8, 2022
Femme Deadly Venoms is a group from Oakland consisting of emcees Aima the Dreamer, Breathless, Dakini, and deejay/producer/vocalist Lady Fingaz. They released their first EP in 2013, and then followed that up with their first album, Planet Femme, in 2015. Since that time, they've been on a bit of a hiatus, working on different projects, but now they have come together like Voltron to deliver their best work to date, Femmenomenon.
Femme Deadly Venoms are a group that knows their history, and they know where they are today. Throughout the album, you'll hear production and flows that sometimes harken back to early '90s, specifically to pioneers like Lady Bug Mecca of Digable Planets and Queen Latifah, with jazzy beats and cool, confident poetry. Of course, this group is also from Oakland, so they also manage to mix in some hyphy and electronica, and draw upon the verbal dexterity and political messaging of Quannum Projects. When you mix this all together, add in some amazing turntablism from Lady Fingaz, and then add in a heavy dose of feminism, you get to the core of Femmenomenon. Each track is first and foremost a dope hip hop track, with a good groove, a memorable hook, and solid rhymes, but it's the groups chemistry together and their political messaging that pushes this album over the top. Any time is a good time for women in hip hop to step to the mic and to the turntables and claim some space and speak their truth, especially queer women and women of color. However, given the current political climate in the U.S. and the recent overturning of Roe Vs. Wade, and this album couldn't come soon enough. For fuck's sake, they have a song on the album called "My Body." That said, it's not just an angry or militant album. They find plenty of room to mix in some humor, and just speak to some personal issues and their day to day lives, as well as laying down some good old fashioned shit talking. This is to say that this is a very well-rounded album from four talented women with great chemistry together.
Femmenomenom could not have come at a better time. Four women coming together to make some dope West Coast hip hop with a distinct voice and political message in 2022? Yes please. Femme Deadly Venoms have given us the art to fuel us to take up the next righteous fight, as well as just delivering a really great hip hop album.
| | |
| --- | --- |
| Title: | Femme Deadly Venoms - Femmenomenon |
| Label: | S/R |
| Year: | 2022 |
| Rating: | 9/10 |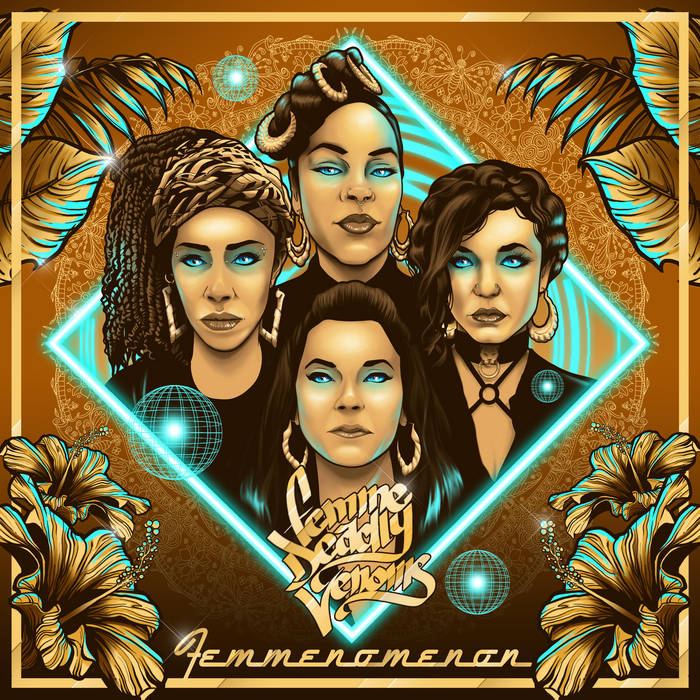 Previous: Myka 9 - My Kaleidoscope
Next: Katalyst, Adrian Younge & Ali Shaheed Muhammad - JID013