More or Les - Post Human EP
Written by Chi Chi Thalken on October 5, 2021
More or Les is a Toronto emcee/producer who is part of the humongous Canadian hip hop collective known as Backburner. As a solo artist, he's been releasing music for nearly two decades, with his latest album, The Human Condition, coming out about a year ago. Now he's back with a new EP, Post Human.
This EP is called Post Human because many of the songs on the project were ones that were cut from The Human Condition, or they are tracks that are on theme but didn't come to Les until months later. Any way you slice it, this is an EP that is full of somber adult raps. More or Les has certainly delivered more fun and bumpin' projects in the past, but sometimes when you've been under quarantine living through a global pandemic, you need to get some serious thoughts and feelings off of your chest. That's exactly what Post Human EP feels like. No, it's not a fun and easy listen, but it is a cathartic listen, and Les is giving us really measured and intelligent lyricism about trying to wrap his head around the state of the world. He does find spots here and there to inject some humor as a way of coping, such as the Simpsons reference on "Shouting at Clouds," or the Pinky and the Brain reference at the beginning of "The In-Between Time," but it's in a scenario where there world feels so crazy and everything looks so grim, you just laugh to keep from crying. The EP is also self-produced, and Les once again finds just the right tone, where the music gives him enough space to spit these serious verses, but he's not creating any dirges in the process. It's that mid-tempo boom bap with just enough minor key instrumentation to fit alongside the lyrics of the project.
Post Human is definitely an EP for these times. It won't get you fired up necessarily, but if you need a good cathartic listen that will make you feel like you're seen and your feelings are valid every time you read the news, this is the hip hop for you.
| | |
| --- | --- |
| Title: | More or Les - Post Human EP |
| Label: | S/R |
| Year: | 2021 |
| Rating: | 8/10 |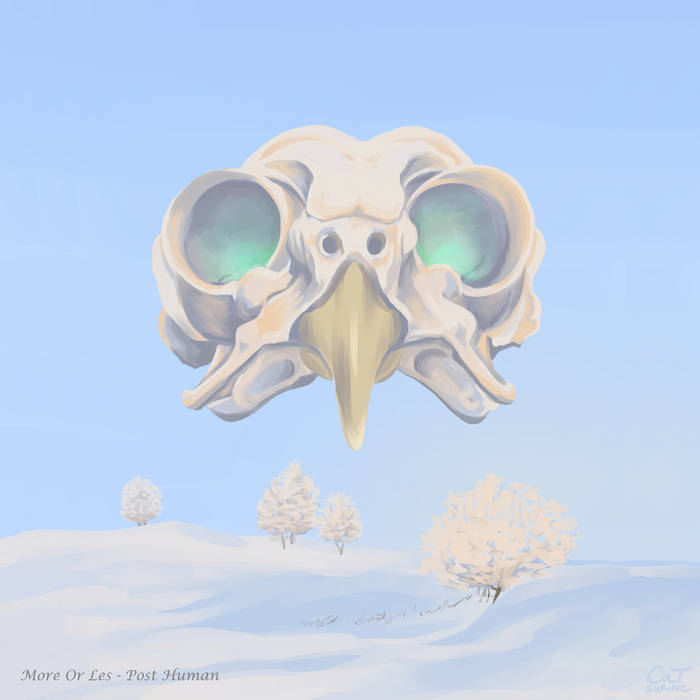 Previous: Curly Castro - Little Robert Hutton
Next: Blackliq x Mopes - Time Is the Price