Mickey O'Brien - Shift Change
Written by Chi Chi Thalken on April 22, 2022
Mickey O'Brien is an artist from Sudbury, Canada. While he released his debut solo album, My Drift, in 2019, he had been working for years before that as the frontman for the group Kill The Autocrats, where many knew him as OB. That said, there's still a learning curve to starting a new chapter in your musical career, where people get to know you all over again in a new light. Now they can really dig in as he kicks thing up a notch with his sophomore album, Shift Change.
The first thing you don't want to mess up when you're solidifying your sound as a solo artist is overthinking your collaborators. Mainly, this means sticking with Fresh Kils as producer, who also worked with O'Brien on My Drift. Kils has long been one of the most talented and versatile producers working in Canada, and with Shift Change you can see how in feeling each other out, Kils and O'Brien take the music in some interesting directions. There's definitely a homebase of '90s East Coast boom bap that they both came up on, but there is also room to stretch their legs, such as on the Irish punk-inspired "Bag Loops," the 120 Minutes alt-rock feel of "Turn it Up," or the classic rock drinking song feel of "Grace." Musically, it's a well-rounded album, and this carries over into the lyrics as well. O'Brien has a presence on the mic, as you might hope from someone with his experience, and there is plenty of room for shit talking and party raps, but there is also a lot of room for him to go deeper on some serious subject matter as well. First things first – O'Brien is a third-generation miner from Sudbury, so labor issues are a particular subject matter that is near and dear to O'Brien's heart, and something that gets explored in length on the album as he shouts out his union brothers and sisters. And while this is a solo album, O'Brien isn't doing this alone, with a lot of guests joining him throughout, including Eyeda Sophia, Annie Q, Young Stitch, Ice Tha One, PremRock, D-Sisive, OK Handsome, Sarah Craig, and Ultra Magnus. Everyone does a great job rhyming and singing and making the album feel like a family affair, but perhaps the biggest surprise comes from the relatively unknown Eyedea Sophia, who kicks the door down with her verse on the opening title track, setting the bar for the rest of the album.
Shift Change is a great step forward for Mickey O'Brien as he solidifies his solo career. It's got a great foundation, and he and Fresh Kils have certainly deepened their working relationship. It also sees O'Brien opening up and going deeper with his lyricism, and bringing in a lot of talented friends along the way to round everything out.
| | |
| --- | --- |
| Title: | Mickey O'Brien - Shift Change |
| Label: | Hand'Solo |
| Year: | 2022 |
| Rating: | 8/10 |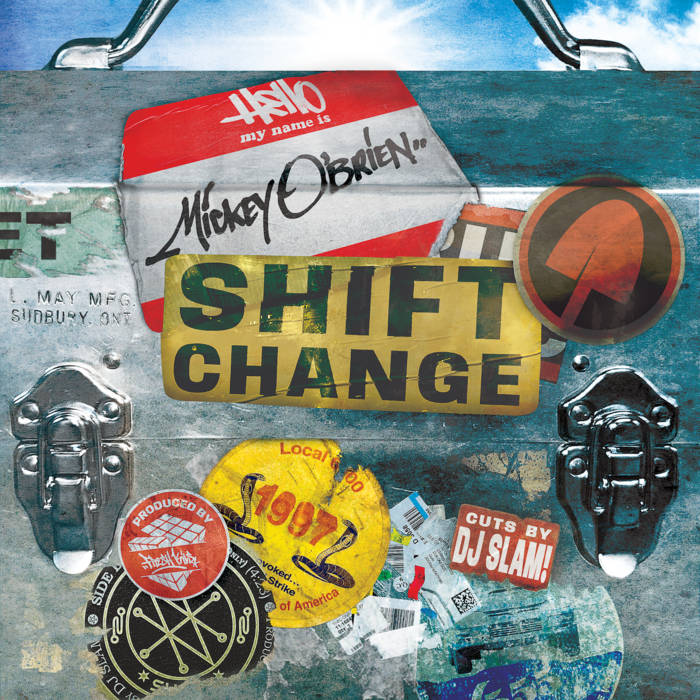 Previous: BLKrKRT - indigo 4.0
Next: Twit One - Prelude to a Disaster