MELONYX - Black Elixir EP
Written by Chi Chi Thalken on July 1, 2021
MELONYX is a duo from Nottingham made up of vocalists Georgia Copeland and Nadia Latoya. They released their first single, "Worth the Wait," in May of last year, but now they make their debut on Tru Thoughts with their first EP, Black Elixir EP.
Sequencing is an underrated aspect of putting a project out into the world. I don't know how the decisions were made when it came to Black Elixir, but however they came to it, it pays off in a really interesting way. When you press play, you're going to immediately get some solid neo-soul over the course of the first three songs. It's not necessarily anything out of the ordinary, but it gives you a chance to appreciate their vocals - the tone of their individual voices, their harmonies, and their melodies. It's very clear that these two came up on the likes of Erykah, Jill, and Angie, and they studied and took the lessons to heart. When you get to "Melanin Queens," the style of music is still in the same vein, but they start to expand on their artistic identity as they pay homage to the Black women who paved the way for them and encourage other Black women to follow their dreams as they offer love and support. The last two tracks of the EP is where things really start to open up, first with the Afro-Latin rhythms of "Ujjayi," where they sing a message of self-care. Then they really take off on the dub/reggae track, "You Make Me Feel Brand New," which really gives them space to let their voices soar as they reinterpret the beautiful Stylistics' song and make it their own.
Black Elixir EP is a nice introduction to a duo in MELONYX with a lot of potential. They lay down a solid foundation of neo-soul, and then they give you a glimpse of how they might open up that sound and make it their own.
| | |
| --- | --- |
| Title: | MELONYX - Black Elixir EP |
| Label: | Tru Thoughts |
| Year: | 2021 |
| Rating: | 8/10 |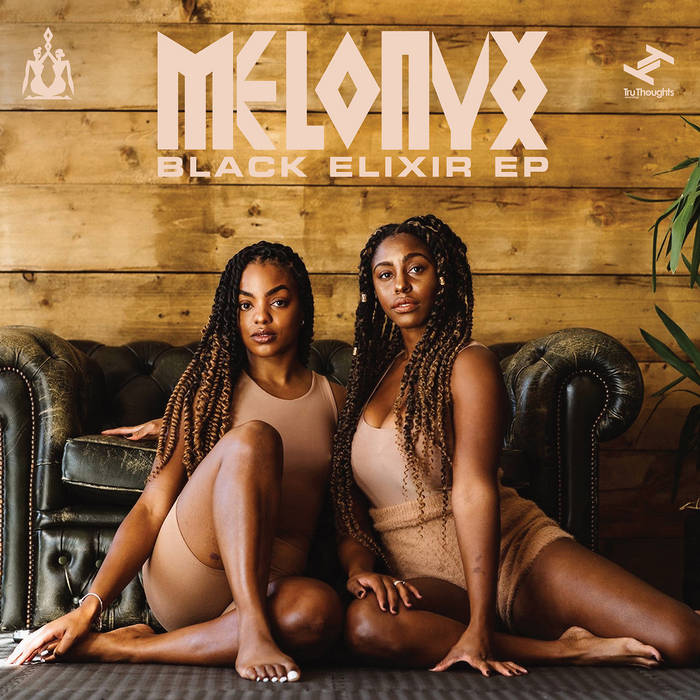 Previous: John Carroll Kirby - Septet
Next: PremRock - Load Bearing Crow's Feet