Mark R. Villegas - Manifest Technique: Hip Hop, Empire, and Visionary Filipino American Culture
Written by Chi Chi Thalken on September 10, 2021
Mark R. Villegas is an assistant professor of American Studies at Franklin & Marshall College in Lancaster, Pennsylvania. Previously, he co-edited and contributed to Empire of Funk: Hip Hop and Representation in Filipina/o America in 2014. Now he has gone even further in those studies with his new book, Manifest Technique: Hip Hop, Empire, and Visionary Filipino American Culture.
Outside of Oliver Wang's excellent 2015 book, Legions of Boom: Filipino American Mobile DJ Crews in the San Francisco Bay Area, there hasn't been much published to document the specific ways in which Filipino Americans have contributed to hip hop history and culture over the years. While Wang's book did an excellent job of documenting one aspect of the history, there was plenty more to be covered, which is where Villegas does an excellent job of picking up the ball and running with it. Over the course of the book, Villegas is examining everyone from those Bay Area deejays to current emcees like Bambu, Geologic, and Ruby Ibarra, to dance crews like Jabbawockeez. What makes the book really worthwhile, though, is the ways in which Villegas takes steps back to examine these systemic issues that are unique to Filipino American history and culture, and how they shape the contributions made to hip hop, or how they affect the ways in which Filipino American interact with hip hop. This includes the U.S. Military to U.S. Citizenship pipeline that many Filipinos have followed, or the specific ways in which minority Muslim Filipino populations found a bridge to the African American hip hop culture through their religion, or the very specific contributions that Filipino Americans have made to hip hop dance culture. It's a very thoughtful and thorough book that will bring to light a lot of issues that you might not have considered if you haven't lived the experience, and Villegas does an excellent job going back and forth between these specific examples and showing how they relate to the bigger systemic issues. Most importantly, he writes in a way that is very accessible, and will hopefully inspire you to consider some pieces of Filipino American history and culture that you were unaware of.
Manifest Technique is an excellent and much needed book that highlights the myriad of ways that Filipino Americans have contributed to hip hop culture over the years. Villegas forces you to think about some big picture issues, but he'll also inspire you to do some deep dives and listen to a lot of dope hip hop or watch some killer dance routines.
| | |
| --- | --- |
| Title: | Mark R. Villegas - Manifest Technique: Hip Hop, Empire, and Visionary Filipino American Culture |
| Label: | University of Illinois Press |
| Year: | 2021 |
| Rating: | 9/10 |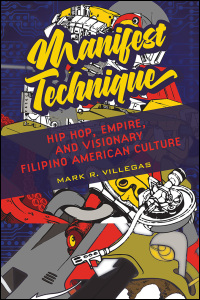 Previous: heir MAX - The Moment 2-0
Next: Little Simz - Sometimes I Might Be Introvert