Little Simz - Sometimes I Might Be Introvert
Written by Chi Chi Thalken on September 10, 2021
Little Simz is an emcee from London who has been climbing up the ranks since she dropped her debut album in 2015, A Curious Tale of Trials + Persons. Her last album, Grey Area, came out in 2019 and was shortlisted for the Mercury Prize. Since then, she held us over with an EP last year, Drop 6. Now it's time for her most ambitious album to date, Sometimes I Might Be Introvert.
The title of the album comes from the acronym for Simbi, which is a shorted version of Simz's given first name, Simbiatu. The meaning of the title, however, is much easier to parse out. This is an album about the struggles between being in a business where you have to be extroverted when performing or negotiating business deals, even if that's not your personality outside of those arenas. To craft the album, she once again teamed up with producer Inflo, but the sound is markedly different than their last album together, Grey Area. There is some overlap when it gets down to the moments of nitty gritty rapping, but this album is also swinging for the stars as it incorporates everything from Broadway to classical to Afrobeat to electro-boogie and filtering it all through a hip hop lens. At nineteen tracks in length and clocking in at over sixty-five minutes, it's easy to feel like there's just too much going on the first time you listen to this album. The good news, though, is that it's intriguing enough to bring you back in for a second and third listen, and this is where all of these disparate pieces of music and lyrics start to come into focus and make sense as part of this bigger artistic statement. It's interesting, because Simz isn't telling a grand tale with her lyrics, at least not in the sense of some sort of conceptual narrative, but she's making herself grand just by really opening up and diving into everything from her personal life with her family, her identity as the child of Nigerian immigrants in the UK, navigating personal relationships, and fighting for a place within the music industry. The great news here is that Simz has been building her skills on the mic for quite some time, and she's able to adjust her flow and deliver all of these rhymes with ease as all these different musical styles get folded in as she hits you with these poetic lines that manage to cut through all the noise.
Sometimes I Might Be Introvert can be a little bit intimidating at first because there is so much music to digest, but the good news is that everything on this album was done with care and purpose by Little Simz and Inflo. Simz took a chance in making this album, and it paid off with the best album of her career so far.
| | |
| --- | --- |
| Title: | Little Simz - Sometimes I Might Be Introvert |
| Label: | Age 101 |
| Year: | 2021 |
| Rating: | 9/10 |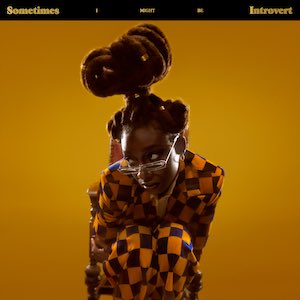 Previous: Mark R. Villegas - Manifest Technique: Hip Hop, Empire, and Visionary Filipino American Culture
Next: Madwreck - Newark Valley High