kidDEAD - Cave Paintings
Written by Chi Chi Thalken on January 20, 2022
We lost a lot of talented hip hop artists in 2021. One such individual gone far too soon was Ross Norton, aka kidDEAD, who left this plane in August of last year. Fortunately, before his untimely passing, he had been working on a project with his friend and artist Onewerd, which now becomes the final Freecember release of 2021, Cave Paintings.
There are several things that will hit you over the course of listening to Cave Paintings. One is that Onewerd is a good fit as a producer working with kidDEAD, as he's able to bring in these different elements of EDM, synth pop, emo, punk, and indie rock and filter it all through a boom bap lens that ties everything together. This fits kidDEAD's style on the mic perfectly, as he was an artist that always brought that punk rock energy and passion to his music, but always tempered it with an emotional openness that required a lot of vulnerability as well. This is where we get to the heart of Cave Paintings and really, what made kidDEAD special as an artist throughout his career. He was always pushing himself and others to challenge their beliefs and to be better versions of themselves, and to call out injustices whenever he saw them, whether it be issues of race, gender, class, or anything else. At the same time, he was also extremely open about his own struggles with mental health and addiction, and how there was always a figurative devil on his shoulder that was something that he had to deal with every day. It was through the ways that he put himself under the microscope and said, "I'm struggling, but I'm trying to be better, and I want you to be better, too," that made his music so easy to relate to – you always wanted to root for him to take that next step, because he wasn't just doing it for himself. He wanted everyone of his friends to succeed as well. This brings us to the final element of Cave Paintings that is so special – kidDEAD's spirit of collaboration. In other spheres of hip hop, guest features and production on an album can feel like a vicious mix of clout chasing and ego battles, but when you're dealing with an artist like kidDEAD, it's all about building community and challenging each other and learning from each other and lifting each other up. In this spirit, we get features from IAME, sole, Ceschi, Squalloscope, Swordplay, Adder, and of course, Onewerd. The beauty here is that everyone's contribution is done with purpose, in that they add something unique and specific to the songs that they are on, and the album is richer because of it.
Like everyone else, I wasn't ready to say goodbye to Ross, but fortunately we get Cave Paintings to enjoy one last rich conversation with kidDEAD. It's a beautiful piece of art and a real reflection of what made him so special.
| | |
| --- | --- |
| Title: | kidDEAD - Cave Paintings |
| Label: | Fake Four |
| Year: | 2021 |
| Rating: | 9/10 |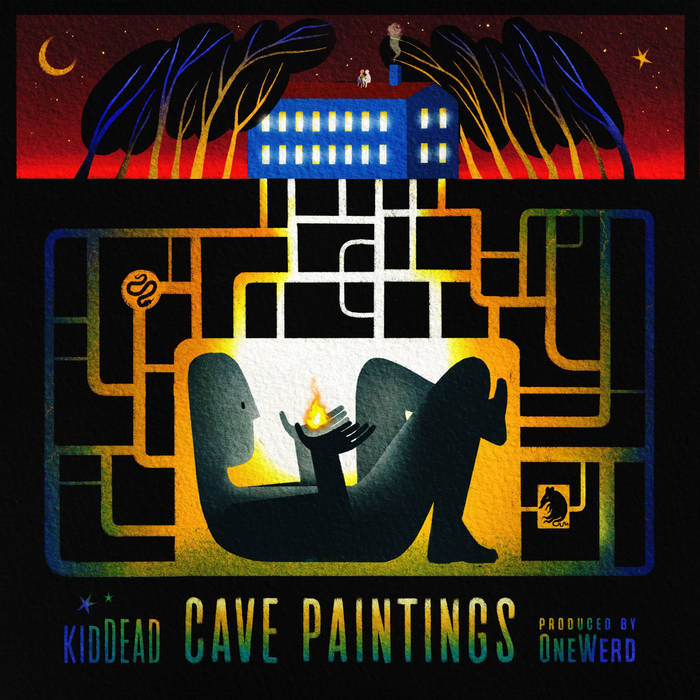 Previous: Sleep Sinatra - In God's Image
Next: AJ Suede & Televangel - Metatron's Cube