Katalyst, Adrian Younge & Ali Shaheed Muhammad - JID013
Written by Chi Chi Thalken on July 18, 2022
Since the launch of their Jazz is Dead label in 2020, Adrian Younge and Ali Shaheed Muhammad have provided a space for older jazz musicians to get back in the studio and record new original material. In that time, we've gotten releases from Roy Ayers to Azymuth to Brian Jackson to most recently, Jean Carne. Now they are switching gears with their latest release, working a relatively new group, Katalyst, for JID013.
Katalyst is a nine-piece ensemble from Inglewood, California, who first got together in 2014. They mainly focused on their live show until 2020, when we finally got their debut album, Nine Lives, out on World Galaxy Records. Where this album really differs from a lot of the other Jazz is Dead albums is that Katalyst is such a tight and young ensemble with their own material ready to go, Adrian Younge and Ali Shaheed Muhammed and the rest of the Linear Labs crew only need to assist as musicians on individual tracks here and there. Instead, Younge and Muhammed mostly serve in the role of producers, helping Katalyst get in the position in the studio to do what they do best. So, what does Katalyst do best? Well, it doesn't take long in listening to this album to learn that they can really cook on some smooth grooves. With Greg Paul on drums and Marlon Spears on bass, they provide this incredibly tight foundation that the rest of the ensemble can build around, with Ahmad Dubois-Dawson providing that X-factor with his additional percussion on each track. The interplay and chemistry between Brian Hargrove on piano and Brandon Cordoba on Rhodes give each track this great texture and provides the horns some real freedom to explore their musical space. What makes the album really work, though, is that they also pay attention to the composition of each track as a group. There is plenty of room for improvisation, but it's the establishment of melody and good song structure and amazing grooves that allows for the improvisation to soar without ever sounding self-indulgent or aimless. It's an album from an ensemble in Katalyst that is really about the songwriting and chemistry between the players that will make you want to listen from start to finish.
JID013 is a bit of a different release from Jazz is Dead, only in that Katalyst are such a new ensemble compared to the rest of the catalogue. However, when you listen to this album, you can see why Younge and Muhammed would want to work with them and put their music in conversation with some of the established talents that have come before them. Katalyst are ready to take their jazz to the next level.
| | |
| --- | --- |
| Title: | Katalyst, Adrian Younge & Ali Shaheed Muhammad - JID013 |
| Label: | Jazz is Dead |
| Year: | 2022 |
| Rating: | 8/10 |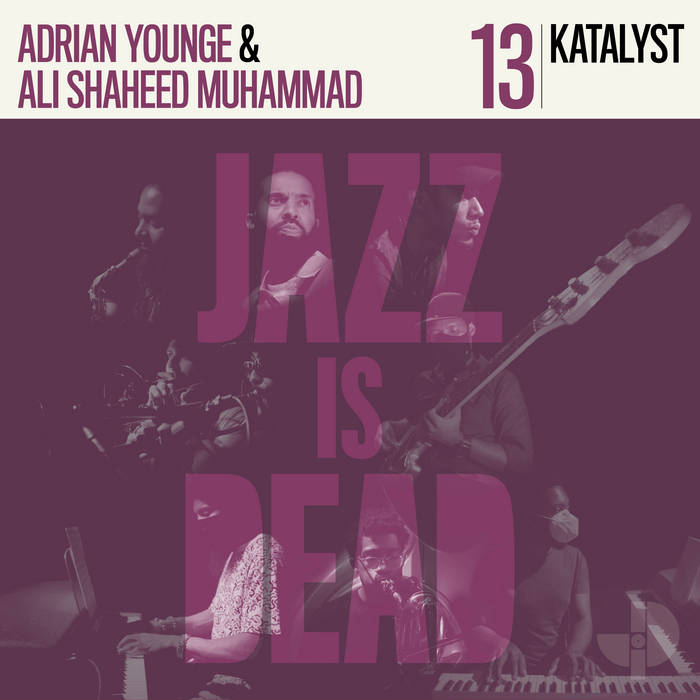 Previous: Femme Deadly Venoms - Femmenomenon
Next: JWords - brainecho