junclassic - Snapshots
Written by Chi Chi Thalken on March 10, 2023
junclassic is an artist from Queens who has been part of the hip hop scene for a minute, but really started his solo career in earnest about fifteen years ago with the release of 2 Much Ain't Enuff. Since that time, he's been working at a steady pace, collaborating with people like MF Grimm, billy woods, Mr. Troy, Wun Two, and Pen Pals along the way. His last album, Long Days and Short Lives, was released in November of last year. He then turned right back around and dropped an EP called Leftfield in January of this year. Now he's right back with another EP, Snapshots.
For this project, junclassic connected with British producer Giallo Point. Giallo Point has been releasing music at a steady pace over the last ten years, working with artists like Napoléon Da Legend and Smoovth. For this project, junclassic is looking back to his early years in the mid to late '90s, when he was coming of age and the sound and the culture of the city was evolving and reaching new levels of fame and noteriety. This means he needed beats that harken back to that era, and the good news is that Giallo Point is able to cook up some great East Coast boom bap, sounding enough like that era to get you in that head state, while also managing to not sound too dated that it sounds uninspired. junclassic is matching that energy and doing a great job to break down what it was like to be a young man in the city at that time, watching great artists killed at the top of their game, watching Manhattan start to become gentrified, all while he was trying to figure out his own path. It's a tough project to pull off without just sounding like old man raps, but junclassic is clever enough with his rhymes and personal enough with his lyricism that he's really getting you into the headspace, not just giving you some "Back in my day" raps. Nowhere is this bettered illustrated than on "96 97," where junclassic really gets into the weeds about how these two pivotal years changed the course of hip hop.
Snapshots is part of a great run for junclassic. This type of project in particular is not an easy one to pull off, but junclassic and Giallo Point were very thoughtful in their approach, and they've given you something in Snapshots that takes you back to '90s NYC while still sounding relevant today.
| | |
| --- | --- |
| Title: | junclassic - Snapshots |
| Label: | S/R |
| Year: | 2023 |
| Rating: | 8/10 |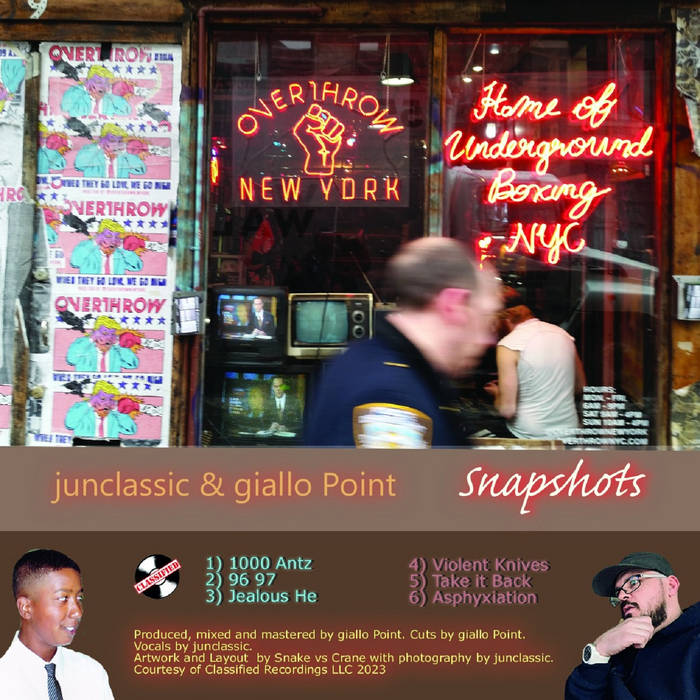 Previous: MC Longshot - Chocolate
Next: AJ Suede & Televangel - Parthian Shots