AJ Suede & Televangel - Parthian Shots
Written by Chi Chi Thalken on March 10, 2023
AJ Suede is an artist from Seattle who first started putting out music in the mid-2010s. He has really hit his stride lately, and he's coming off a particularly prolific 2022, which saw the release of an album with Small Professor, Hundred Year Darkness, a self-produced album called Oil on Canvas, and an album with Televangel, Metatron's Cube. He's already released a short project in January called Indica Music, but now he's back with Televangel to release another album on Fake Four, Parthian Shots.
If you've been following the rise of AJ Suede over the past year or so, you won't need much convincing with Parthian Shots. That's because this isn't a radical shift, it's more of a continuation of Metatron's Cube, where both artists can dig even deeper and explore their weirder impulses as producer and emcee. In this way, this album really feels like a throwback to the underground hip hop sounds of the late '90s/early '00s. That's because these two aren't concerned with making any pop songs - there are no "hits" on this album. Televangel is interested in exploring how spaced out, spooky, psychedelic, or futuristic their hip hop can sound, finding this point where ambient, experimental electronic music, post rock, and hip hop can meet. This in turn opens things up for AJ Suede to get as abstract as he wants to be on the mic. And while he's painting some wild strokes with his brush, he always manages to do so with a lot of intelligence and charisma. Your mind might wander a little with the abstract rhymes and spaced out production, but Suede will no doubt drop a line that will bring you crashing back down to earth with a brutal truth about his own lived experience. As a result, you get an album that is really fun to get lost in, because you know you'll discover something new each time through.
Parthian Shots is a great continuation and growth from what Televangel and AJ Suede laid down with Metatron's Cube last year. It's extremely creative, and it doesn't sound like a lot of other albums that are out right now.
| | |
| --- | --- |
| Title: | AJ Suede & Televangel - Parthian Shots |
| Label: | Fake Four |
| Year: | 2023 |
| Rating: | 8/10 |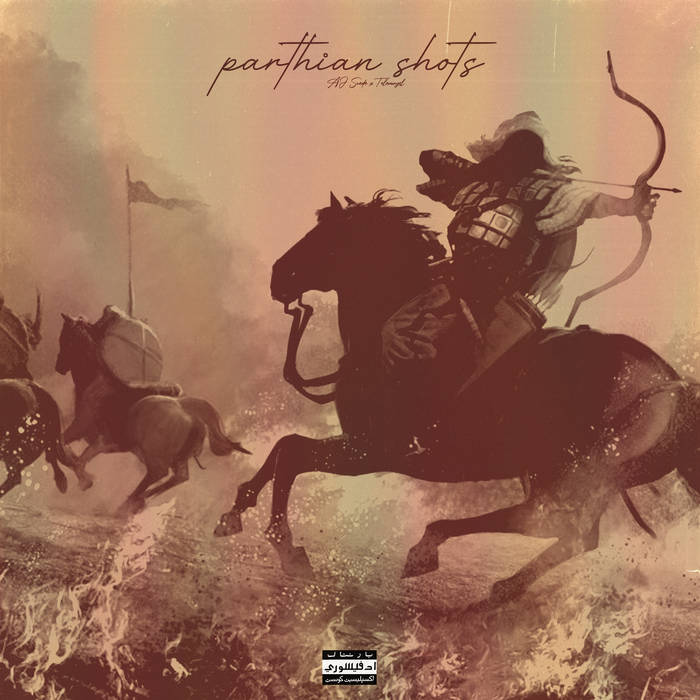 Previous: junclassic - Snapshots
Next: Gianni Brezzo - Soundscapes Vol. 1 - Music for Harlequins