junclassic - Long Days and Short Lives
Written by Chi Chi Thalken on November 4, 2022
junclassic is an artist from Queens who has been part of the hip hop scene for a minute, but really started his solo career in earnest about fifteen years ago with the release of 2 Much Ain't Enuff. Since that time, he's been working at a steady pace, collaborating with people like MF Grimm, billy woods, Mr. Troy, Wun Two, and Pen Pals along the way. Most recently, he collaborated with IV The Polymath to make the album Spectrum, which came out last December. Now he's back with a new album, Long Days and Short Lives.
Long Days and Short Lives is something of a concept album, albeit a rather straightforward one. The idea is simply that on your longest days, the ones where you might feel stressed out and all of the mundane things grate on you and feel like they are drawn out forever, it can lead to some contemplative thinking. That thinking might then lead to some reflection, wondering how you got where you did, and what exactly your station in life is. So over the course of this album, junclassic is stepping to the mic and working his way through these thoughts. How has his career in hip hop changed over the years? What about New York? How have his personal relationships evolved? Is he where he wants to be? junclassic is the perfect emcee to tackle a project like this, because he is an artist who can really come through with the intimate and low key delivery it needs without sacrificing any confidence or skill with the lyricism. It's the type of album that is great on headphones, where you can really get inside your own head and have a conversation with the music on the album and contemplate your own path as you make your daily commute. It's also an album that finds all sorts of interesting ways to be creative and subversive while never losing sight of keeping the album accessible and down to earth. To accomplish this, junclassic is working with producers like Semi, Wun Two, J Slikk, The Soulution, Kobra Dera, Iron Fizt, and Txger Vppercvt. They all come through with some underground beats that take that classic East Coast boom bap and shift things to the left and keep you on your toes with their construction. This is turn just inspires junclassic to keep his pen game sharp and find all sorts of interesting hooks and approaches as he discusses a lot of everyday life issues. When you put it all together, you get an album that is immediately fun and easy to listen to, but will continue to grow on you as you form this personal bond with the narrative that junclassic is laying down.
junclassic has been around for a minute, and he could have easily phoned in an album like this. Instead, he's given us a really mature and creative project that bumps, while also providing a lot of lyrical depth that will allow listeners to keep coming back for more.
| | |
| --- | --- |
| Title: | junclassic - Long Days and Short Lives |
| Label: | Icy Palms |
| Year: | 2022 |
| Rating: | 8/10 |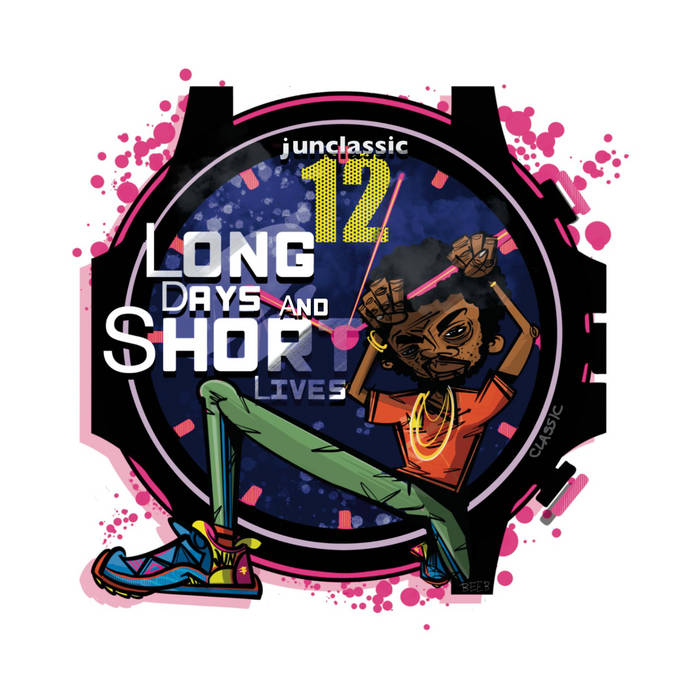 Previous: lys scott - squashed dreams & broken wings
Next: Backxwash - HIS HAPPINESS SHALL COME FIRST EVEN THOUGH WE ARE SUFFERING