Jean Carne, Adrian Younge & Ali Shaheed Muhammad - JID012
Written by Chi Chi Thalken on May 27, 2022
Jean Carne is a vocalist originally from Georgia, but she first made her mark as a musician in Los Angeles in the early '70s, when she and her then husband, organist Doug Carn, launched Black Jazz Records, and subsequently collaborated on a series of incredible soul/jazz fusion albums. By 1976, she moved on to Philadelphia International, and began a more pop-friendly era of her career, enjoying some moderate success that went through the '80s. She's been relatively quiet since that time, with the exception of a couple of albums here and there that largely went unnoticed, the last of which came in 2015. Even then, those albums tended to lean more towards the pop side of her career. Well, now the fine folks at Jazz is Dead have collaborated with her on a brand new album, taking her back to her roots on JID012.
While there is absolutely nothing wrong with Jean Carne's pop material, it's easy to overlook her early career and her legitimate jazz roots unless you're specifically seeking it out. The beautiful thing about her working with Adrian Younge and Ali Shaheed Muhammad and Jazz is Dead is that everyone involved is not only familiar with this early phase of her career, they clearly love it. The best news here is that Carne has clearly taken good care of her voice over the years, and she sounds as strong and in control as ever on the mic. Carne has a wonderful knack for singing in an intimate and delicate style without ever sounding passive, her tone is so pure and rich, even when the dynamics are soft. Because of this, she can really draw you in as a listener, and then she can paint these wonderful pictures with her voice. In working with Jazz is Dead, and going back to this soul/jazz style of music, you can hear how her early career really put her in conversation with Roy Ayers Ubiquity, but also the ambitious and experimental pop of artists like Minnie Riperton and Roberta Flack. Carne always seems to find the sweet spot on the album between moments of pop accessibility and moments where she can really stretch her legs as a vocalist and get more abstract with it. Because of all of this, Carne sounds engaged and excited in a way that you love to see, because that's what the Jazz is Dead project is supposed to be about – putting older artists in a position to succeed, getting creative freedom, and reaching a younger audience.
Jean Carne probably doesn't get enough recognition in regards to any point in her career these days, but fortunately a few musicians who did know and appreciate what she was capable of were in a position to put her in a position to record some of her best music in decades. Adrian Younge and Ali Shaheed Muhammad gave her just the right push, and as a result, Carne made some of the best jazz of her career in her seventies.
| | |
| --- | --- |
| Title: | Jean Carne, Adrian Younge & Ali Shaheed Muhammad - JID012 |
| Label: | Jazz is Dead |
| Year: | 2022 |
| Rating: | 8/10 |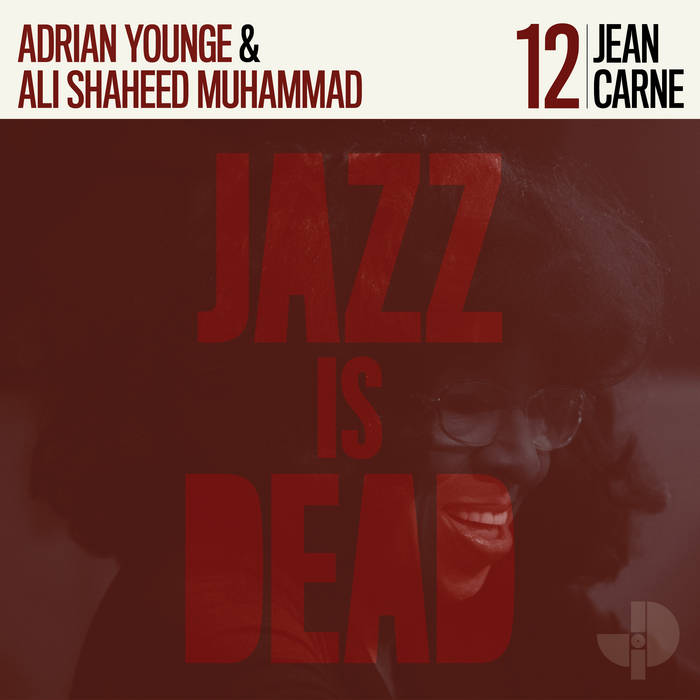 Previous: s.al - ALMA
Next: Lance Scott Walker - DJ Screw: A Life in Slow Revolution