J.Rocc - Beatitudes
Written by Chi Chi Thalken on February 1, 2023
J.Rocc is a SoCal legend, a deejay and producer who came to fame as one of the founding members of the Beat Junkies crew. Most recently, he's been focusing on his solo career, with his last album, A Wonderful Letter, coming out in June of last year. Now he's back with a new instrumental project, Beatitudes.
Sometimes an album title can tell you exactly what a project is all about, and J.Rocc has certainly done that with Beatitudes. As the title infers, this is a spiritual meditation built around hip hop beats. There are some vocal samples spread throughout the album to set the scene for certain tracks and get the wheels spinning in your head, and as such you can tell that J.Rocc is coming at this project from a Black Christian experience. That said, you don't have to subscribe to a particular church or faith to enjoy this album. All you have to do is appreciate the production skills of J.Rocc, the passion and the musicianship that he put into this gospel-inspired album, and then you're free to enjoy it as you see fit, whether that be in prayer, meditation, reflection, or just as a head-bobbing good time. Whatever it is, you can be sure that the veteran knowhow and devotion to the craft that J.Rocc brings to the table is coming through on each track. You get a beautiful and soulful journey of great grooves from start to finish, with a lot of nuance, care, and skill.
Beatitudes is straightforward enough, but it still takes a lot to make a project like this interesting to listen to. J.Rocc has clearly put in the time, and he's put a lot of himself into this album. Everything has been laid out with a lot of care, and as a result you get an instrumental hip hop album that will take a little higher as you listen to it.
| | |
| --- | --- |
| Title: | J.Rocc - Beatitudes |
| Label: | Stones Throw |
| Year: | 2023 |
| Rating: | 8/10 |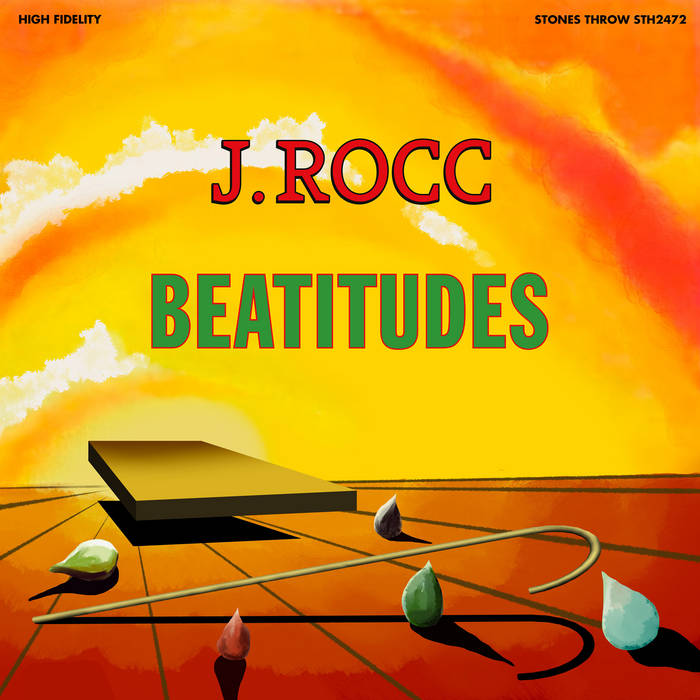 Previous: Laughta - Dare 2 Be Different
Next: Tommy Jordan - Broke