Hellsent & Batsauce - JIMI FLOSS
Written by Chi Chi Thalken on March 8, 2023
Hellsent is an emcee from Chicago who has been releasing music since the mid-2000s. In 2014, he teamed up with Berlin-via-Jacksonville producer Batsauce to make the album Bat Outta Hell. In 2018, the came back together for round two when they dropped Illegal Tender. Now they are finally back for round three as they drop their latest album together, JIMI FLOSS.
Sometimes you just need an album to meet expectations. In the case of JIMI FLOSS, that's perfect, because the first two rounds were so good, you just want more of the same, with maybe a little variety to spice things up of course. Batsauce is always creative with his beat construction, finding interesting samples and finding ways to bring in psychedelic elements while still throwing down some boom bap that absolutely slaps. One of the first things you'll want to do with JIMI FLOSS is turn that shit up. This works perfectly for Hellsent, an emcee who has bars and often works as a storyteller on the mic. Over the course of the album, you are getting gritty tales of Chicago life, beautiful visions of what could be possible, along with some clever wordplay and shit talking, all while also delivering some hooks that will have you rapping along. In other words, Hellsent is a consummate emcee, one of those artists that might be your favorite emcee's favorite emcee. He vibes perfectly with Batsauce, who remains as inspired and funky as ever. Together, they are just cooking up tons of classic hip hop that will have you bobbing your head, listening closely to Hellsent's words, and running the whole thing and seeing what layers you will uncover with each listen.
JIMI FLOSS is continuing the trajectory of the first two albums from Hellsent and Batsauce. These two have great chemistry together, and they know exactly what they are about as artists, and just give you the best version of themselves each time they come together to make music.
| | |
| --- | --- |
| Title: | Hellsent & Batsauce - JIMI FLOSS |
| Label: | Icy Palms |
| Year: | 2023 |
| Rating: | 8/10 |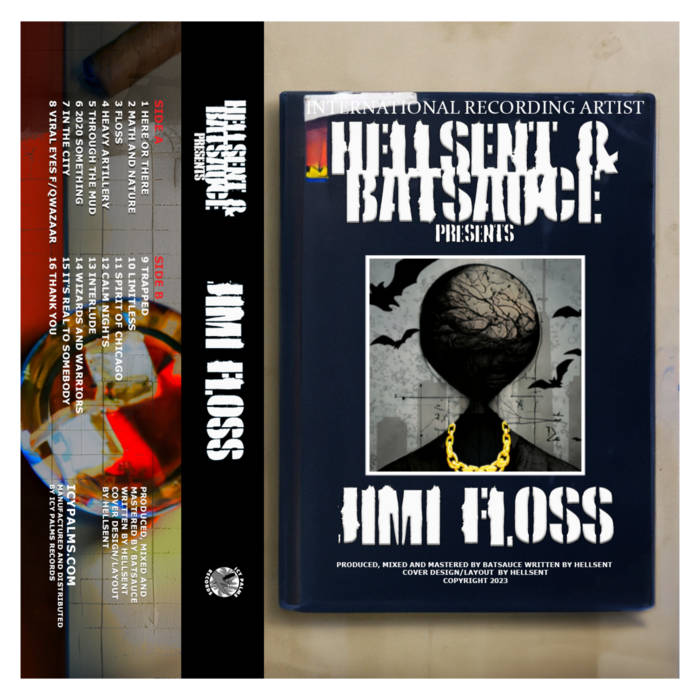 Previous: Kendra Morris - Babble
Next: Yazmin Lacey - Voice Notes