Gianni Brezzo - Soundscapes Vol. 1 - Music for Harlequins
Written by Chi Chi Thalken on March 13, 2023
Gianni Brezzo is not the given name of an artist, as you might assume, but the name chosen by Cologne-based producer/musician Marvin Horsch for his jazz/neo-soul project. Horsch had been recording under his given name starting in 2013, but debuted Gianni Brezzo in 2017 with the release of the album, tak€2. He debuted on Jakarta in 2021 with the release of The Awakening. Most recently, we got an EP called Amoria released this past November. Now he's back with another full-length album, Soundscapes Vol. 1 – Music for Harlequins.
For this particular project, Horsch went back to listen to a lot of the music of his youth, which included a lot of metal. As he relistened to a lot of the music and studied it as a working musician, he started to think about how he might incorporate the classical and European folk roots of metal into his own music. The result is what you hear on Soundscapes Vol. 1. As you might imagine, this is a little bit of a departure from his previous work, and if you've spent time with his last couple of albums, you might be taken aback a little if no one prepared you for what this album was doing. It has a lot more baroque and classical influence, which means that the album doesn't immediately hit you with the jazz, soul, or hip hop stylings that you might be used to. However, once you get a couple of tracks deep into Soundscapes Vol. 1, Horsch starts to hit his groove, both figuratively and literally, and the marriage of these different influences starts to take shape, and you can see how this is actually a continuation of the last few Gianni Brezzo albums, not a departure. When it all comes together, you're left with a really cinematic and symphonic soundscape, one that takes the grandeur and the darkness of the baroque music and translates it really well into the symphonic soul that Horsch had been composing on his previous projects.
Soundscapes Vol. 1 – Music for Harlequins is an interesting album from Gianni Brezzo. It's not exactly what you've come to expect from the previous albums, but once you sit with the music and let it come together over the course of the album, it becomes clear that Horsch has done the work to really study these different styles of music. He's figured out how to bring these different influences together to make a really fun and exciting album to listen to.
| | |
| --- | --- |
| Title: | Gianni Brezzo - Soundscapes Vol. 1 - Music for Harlequins |
| Label: | Jakarta |
| Year: | 2023 |
| Rating: | 8/10 |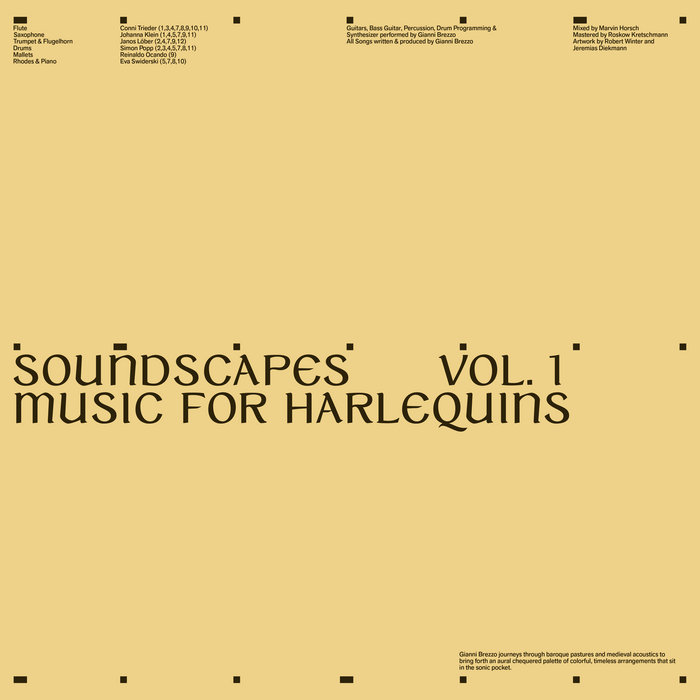 Previous: AJ Suede & Televangel - Parthian Shots
Next: Ivan Ave - All Season Gear