Garrett Saracho, Adrian Younge & Ali Shaheed Muhammad - JID015
Written by Chi Chi Thalken on November 18, 2022
When Adrian Younge and Ali Shaheed Muhammad launched Jazz is Dead in 2020, the mission was to provide older jazz musicians the support they needed to get back into the studio and record original material, hopefully introducing them to a younger audience in the process. In the label's short existence, we've gotten releases from the likes of Roy Ayers, Doug Carn, Azymuth, Brian Jackson, and Jean Carne, just to name a few. For their latest entry, they found an artist who is largely unknown, pianist Garrett Saracho.
Unless you have the deepest knowledge of L.A. jazz, or were into Impulse Records back in the day to the point of being a completionist, you probably haven't heard of the name Garrett Saracho until now. That's because while he signed to Impulse in the early '70s, he only released one album, En Medio, and then was the victim of label mismanagement and never got a chance to follow up the effort. He then pivoted to touring with his cousins in Redbone and worked in the film industry, never recording another solo album for decades. Fortunately, all it takes is the right person to stumble across your album, and if that person happens to be at Jazz is Dead, you just might find yourself in the studio recording your sophomore album almost fifty years after your debut. So, after all this time, what does Garrett Saracho sound like? Well, he's got a gentle and passionate touch on the piano, and real knack for voicing with his compositions. There is a real cool-jazz-meets-Latin-jazz vibe to most of the album, and Mekala Session and Nicholas Bake do an excellent job on drums and percussion, respectively, in holding down the backbone of the album as Saracho and the rest of the musicians fill out these lush arrangements and play off of each other. While most of the album has this laid back vibe to it, Saracho shows that he can still turn it up and get things cooking on tracks like "Trucha," or "El Cambio Es Necesario," where Saracho and band can really let things fly and get your feet moving and your hips swaying while they take you on a journey.
It's been a long time coming, but Garrett Saracho made his time count with JID015. He's an excellent pianist, and he gives you the full gamut on this album. He can be really subtle and beautiful with some laid back coolness, but he can also get that rhythm section fired up and bang out some energetic melodies that will get you dancing. It's great to have him in the spotlight after all these years.
| | |
| --- | --- |
| Title: | Garrett Saracho, Adrian Younge & Ali Shaheed Muhammad - JID015 |
| Label: | Jazz is Dead |
| Year: | 2022 |
| Rating: | 8/10 |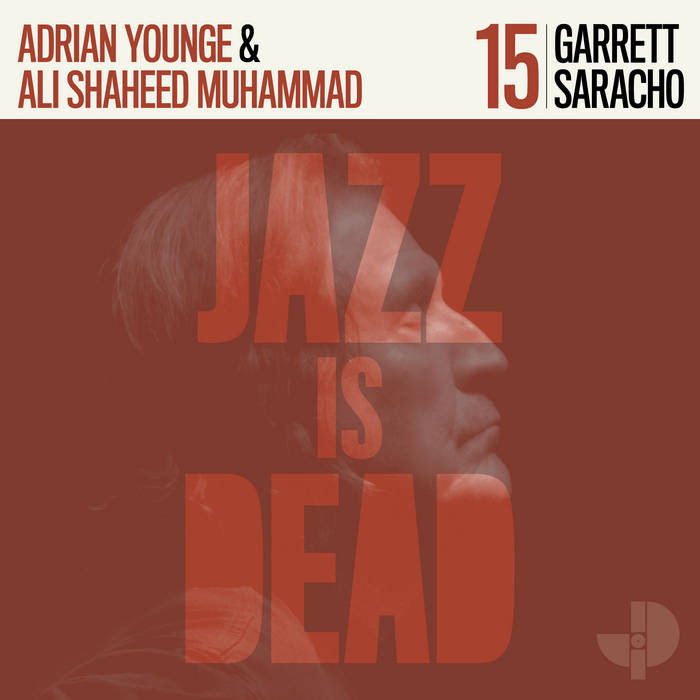 Previous: R.A.P. Ferreira - 5 to the Eye With Stars
Next: Eliot Lipp - Encounters