Five Steez & SonoTWS - Quietude
Written by Chi Chi Thalken on November 24, 2021
Five Steez is an emcee from Kingston who has been releasing music for over ten years now. Over that time, he's worked alongside such artists as Mordecai, Nomad Carlos, and J-Zen, just to name a few. Most recently, he worked with Nomad Carlos and The Sickest Drama under the name Council of the Gods to release an EP called Trilogy. Now he's back with a new album done in collaboration with Brazilian producer SonoTWS, Quietude.
If you've spent time with Five Steez's catalogue, it will make total sense that he teamed up with SonoTWS for this project, because the Sao Paulo producer knows how to throw down that grimy mid-'90s East Coast boom bap that Steez enjoys rhyming over. Their chemistry is inherent from the jump, and they never stray too far from this established formula. That's okay, though, because this isn't a project about pushing the envelope or reinventing the wheel. It's a project about telling some personal stories and making some key social observations along the way, all set to some head-nodding goodness. This is what they set out to do, and it works really well because SonoTWS is delivering some really soulful beats and Five Steez is really putting himself into his lyricism, whether it be his reflections on religion on "Sunday Service," the longform storytelling of "Max & OG," or the political rhymes of "Babylon Burning" with Bad FX. What pushes the album over the top, though, is the last two tracks, "Sugar & Spice," and "Be Live." "Sugar & Spice" gives you a brief respite from the bravado and lets you see the tender side of Five Steez and he sweetly rhymes about meeting his love and how he wants to build a future with her. This segues perfectly into "Be Live," which features the beautiful vocals of Shanique Marie on the hook as Steez rhymes over a gorgeous laid back beat about his hopes and dreams in the future.
Quietude is a great album from Five Steez and SonoTWS. They are clearly on the same page as to what type of hip hop they want to make, which is a timeless formula when done right – head nodding soul-sampling beats and honest and personal lyricism.
| | |
| --- | --- |
| Title: | Five Steez & SonoTWS - Quietude |
| Label: | S/R |
| Year: | 2021 |
| Rating: | 8/10 |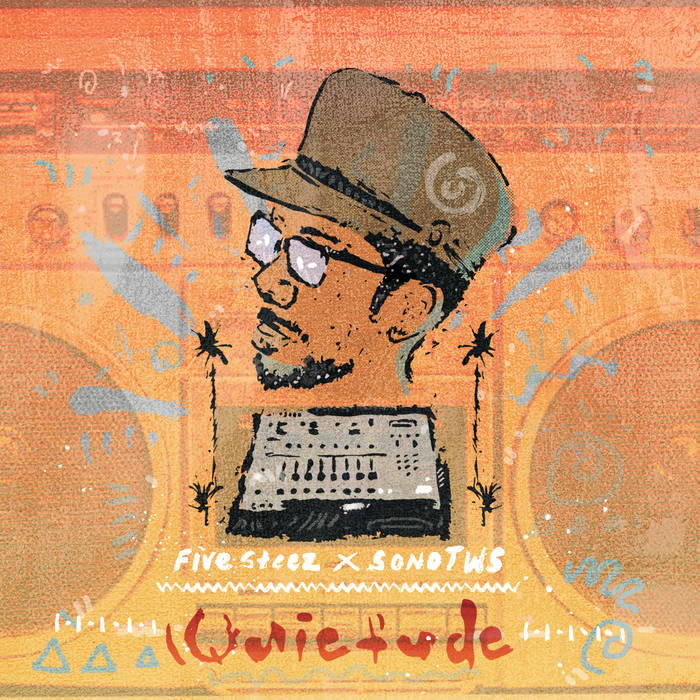 Previous: Masai Bey - The Panacea Goldmind (15th Anniversary Edition)
Next: BRZOWSKI & C$BURNS - Seditious Acts