BRZOWSKI & C$BURNS - Seditious Acts
Written by Chi Chi Thalken on November 24, 2021
Back in 2017, Texas-by-way-of-Maine emcee BRZOWSKI dropped an album called Enmityville, produced by 80HRTZ and C Money Burns. While there were other projects in between, it was in fall of 2020 when BRZOWSKI teamed back up with C$BURNS to deliver the album that extended the sound and conversation of Enmityville with The Subjugation of Bread. Now BRZOSKI and C$BURNS are back to put a proper epilogue on what they started with an EP called Seditious Acts.
If you've spent the time with these last two projects, you probably have a good idea what you're getting into with Seditious Acts, which is far left politics, dark poetry, and a touch of humor and love, all set to some equally dark and dense underground hip hop production. Written while a global pandemic raged and late stage capitalism failed us everywhere you turned, it's hard to imagine that these two would suddenly give us an album full of club bangers. This is still the gruff-voiced poet and the producer who likes to dabble in industrial, noise, and metal with his beats. That said, there are a few key aspects of Seditious Acts that make it stand out as its own unique project. One is that there is a little more room for some funk and riding of grooves on these songs, and you get a little more rhythmic interplay than usual in BRZOWSKI's delivery as a result. This is especially notable on "Hoxhaism," a song which also features another gem of the EP, a guest appearance from Curly Castro, who has been having a hell of a 2021. Not only does Castro bring it lyrically, but he provides a nice contrast in styles of flow on the mic against BRZOWSKI's usual deliberate pacing. Ultimately, though, what makes Seditious Acts work more than anything and has it stand apart from the two previous projects is that for all of the confrontation of unpleasant realities that happens over the course of this EP, it's not all gloom and doom. This project is also about reminding you that there are other people out there that also think like you do and share your concerns for building a better world, and that we can use this music to unite us in a fight to push back against the same old bullshit that isn't working today and won't work tomorrow.
BRZOWSKI and C$BURNS will probably work together again at some point, but they have closed this particular phase of their careers on a high note with Seditious Acts. It's challenging while remaining accessible, and it's pissed off while remaining hopeful.
| | |
| --- | --- |
| Title: | BRZOWSKI & C$BURNS - Seditious Acts |
| Label: | Milled Pavement |
| Year: | 2021 |
| Rating: | 8/10 |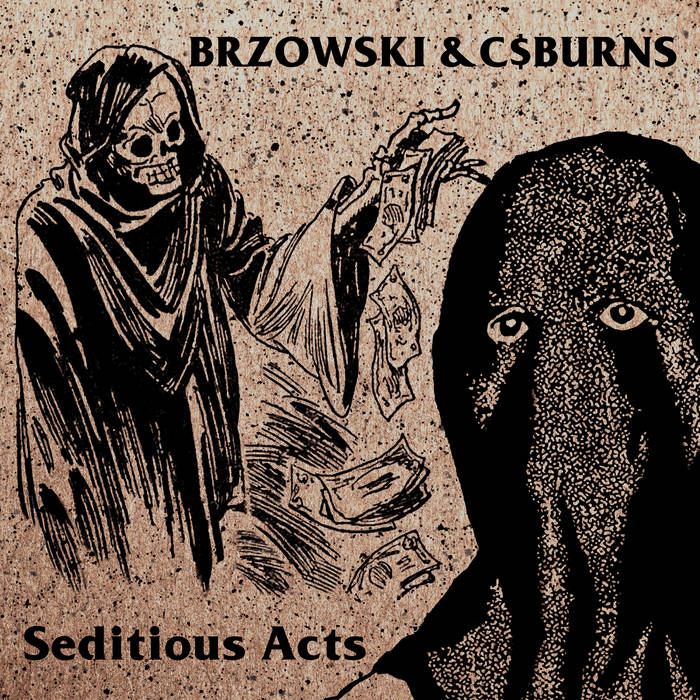 Previous: Five Steez & SonoTWS - Quietude
Next: MexStep - Vivir