Dope KNife - The Dope One
Written by Chi Chi Thalken on November 11, 2022
Dope KNife is an emcee/producer from Savannah who first came up as part of the Dope Sandwich crew/label in the early to mid 2000s. He's been doing the solo thing for a while, but he's really been hitting his stride in the last five years or so, with projects on Strange Famous, Fake Four, and Brick. His most recent project came in 2020, when he teamed up with Factor Chandelier to release an EP called Kill Factory. Now he's back on Fake Four to release his new album, The Dope One.
If you didn't already know, Dope KNife is a hip hop fan first and foremost, and that love and study of the craft goes deep. This becomes apparent time and time again over the course of The Dope One, where Dope KNife finds the perfect blend of trap, boom bap, and gritty experimental underground beats to create an album that comes in hard and stays hard over the course of fifteen tracks. That production is coming courtesy of Cody Kimb, Mr. Stereo, Tough Junkie, Ted Bowne, Halftyme, Factor Chandelier, and Dope Knife himself. The beautiful thing is that for all of the different producers and approaches to the tracks, Dope KNife has selected and sequenced everything in a way that keeps the music flowing and puts everything in conversation with the rest of the album. What really makes it all come together, though, is Dope KNife the emcee. KNife has this great raspy low voice that resonates nicely on the mic, and he comes with a lot of skill and charisma when he starts to flow. What is particularly compelling is the combination of clever hooks that will stick in your head, but also the way in which Dope KNife keeps approaching each song like he's just giving you battle raps and talking his shit, but then keeps dropping all of these subtle gems throughout, whether they be autobiographical notes, emotional moments about different personal relationships, or really cutting political and social observations. As a result, you get this album that is immediately accessible and fun to listen to, something that you're absolutely going to want to listen to with the volume turned up, but then with each listen you catch another brilliant line that Dope KNife snuck in that will make you want to pause and rewind. On top of all this, he invites a few friends along for the ride who all crush it, including Linqua Franqa, Chris Conde, K-Death, Ceschi, Passafire, Soultru, Molly Messinger, and Jarv. When put everything together, you get an instant classic indie hip hop album.
Dope KNife has been around for a minute, but he's never sounded better than on The Dope One. The beats are fresh, the rhymes are inspired, and there's no filler. Bump this one loud.
| | |
| --- | --- |
| Title: | Dope KNife - The Dope One |
| Label: | Fake Four |
| Year: | 2022 |
| Rating: | 9/10 |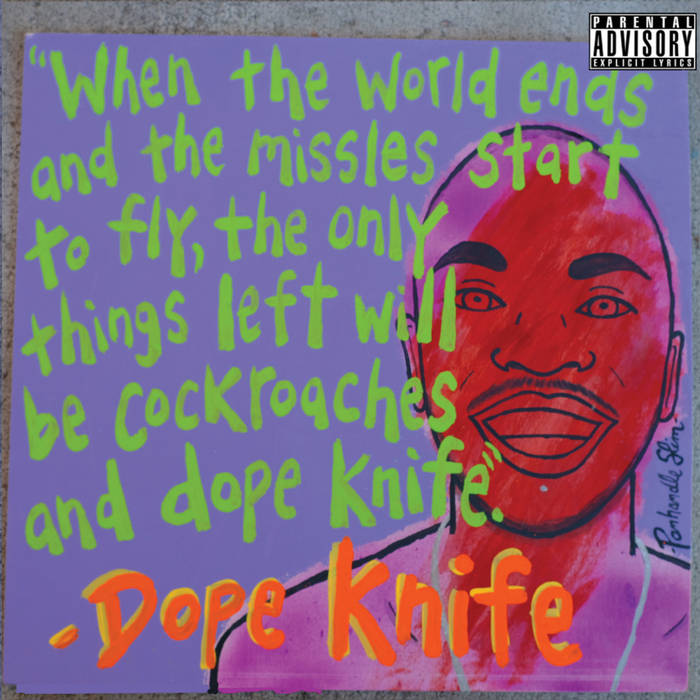 Previous: Bad Colours - Always With U
Next: Sankofa - Never Easy