Def3 & Late Night Radio - Weddings and Funerals
Written by Chi Chi Thalken on June 4, 2021
Def3 is an emcee originally from Regina, Saskatchewan who has been releasing music for over fifteen years now. In the past, he's worked with such Canadian hip hop mainstays such as Moka Only and Factor. In 2017, he teamed up with Denver producer Late Night Radio to make the album Small World. Now, after an eventful four years, he's back for another round with Late Night Radio as they present their new album, Weddings and Funerals.
The time in between albums this time around was an era of a lot of personal change for Def3. Since we last checked in, he moved to Vancouver, got married, had a daughter, and lost his grandfather. Needless to say, but he had a lot to get off his chest when it came to this album. The album, ironically, opens with a track called "Just Wait." The track itself isn't ironic, but the positioning and sound of the track feels ironic because everything comes across so incredibly urgent as Late Night Radio and Def3 kick things off with a ton of energy to get you hype for the rest of the album. One thing that should be noted is that in the age of sending tracks back and forth over the internet and recording in isolation and hoping that y'all are on the same page, Late Night Radio and Def3 made it a point to be in the same room while working on this album so that there was a constant give and take between the two and they could push each other to make the best and most honest album they could. That chemistry comes across again and again over the course of Weddings and Funerals, as Late Night Radio brings together a pop friendly sound that weaves together different influences such as gospel, '90s R&B, Chopped and Screwed, and modern hip hop. The key here is that not only does Late Night Radio do a great job of putting everything in conversation with each other, but he manages to make everything sound so incredibly soulful and pop-friendly. It's the type of album that immediately sounds familiar and makes you want to sing along, but it also gets you in your feelings. Def3 is right there with Late Night Radio, ready to lay down some bars and rock the crowd, but also willing to dig deep and let you into his world, where he's wrestling with the emotion that comes with all the life changes he's been through in the past couple of years. In doing so, he's creating a discussion that brings in conversations about faith and love, but he's also addressing more urgent and tangible matters, like what it means to raise a young girl of Latinx heritage in today's global political climate and questioning how he can make his actions align with his beliefs and be a good roll model for her. It's an incredibly complex and densely packed album in terms of substance, and they really cover a lot of ground in just nine songs, but Def3 and Late Night Radio also make sure that this album is easy to listen to. They do that with soulful grooves and memorable hooks that will draw you in, make you turn up the volume, and get things moving. Then, with each subsequent listen, you can dig a little deeper and just get further and further into the album realize just how much there is to this project.
Wedding and Funerals clearly means a lot to Def3 and Late Night Radio, and they put a lot of time and care into making it. The good news is that all that effort paid off, giving us an album that can both be bumped at all of our summer parties, but also enjoyed on a deeply personal level as you connect with the tales of love and loss and growth and exploration.
| | |
| --- | --- |
| Title: | Def3 & Late Night Radio - Weddings and Funerals |
| Label: | URBNET |
| Year: | 2021 |
| Rating: | 9/10 |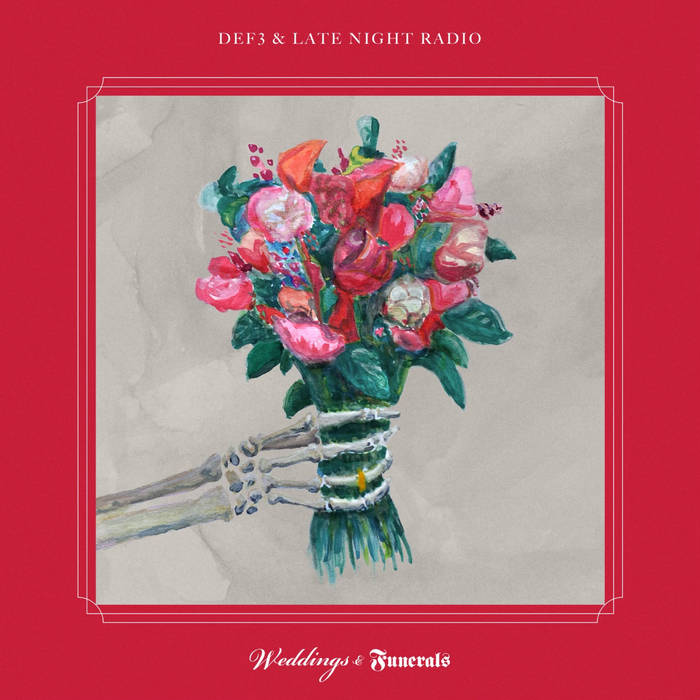 Previous: DJ Format - Devil's Workshop
Next: Offsite - A Thousand Miles the Same Mood