Damu the Fudgemunk - Conversation Peace
Written by Chi Chi Thalken on September 8, 2021
Damu the Fudgemunk is a producer from D.C. who has been releasing music since the mid-'00s. Over the years, he's released a lot of solo material, but he's also collaborated on projects with the likes of Insight, Raw Poetic, Blu, Flex Matthews, and Archie Shepp. His most recent release came in April of 2020, when he dropped Moment of Change with Raw Poetic. Now, for his newest project, he's teamed up with London label Def Pressé to launch a new series with Conversation Peace.
Def Pressé recently announced an exclusive partnership with KPM/EMI to gain access to the KPM sound design library. KPM is a production music label dating back to 1956, with over 30,000 non-commercial original recordings made to license in TV, film, radio, or other media outlets. Upcoming albums in the series will include entries from J-Live, Stro Elliot, and Chris Dave, but first up to bat is Damu the Fudgemunk. If you've spent any time with Damu's previous material, you know what a creative digger and sample-flipper he is. If you've spent time with his work with Raw Poetic and/or Archie Shepp, you know how expansive his sound can get while still maintaining that hip hop foundation. This is all to say that Damu certainly sounds like he enjoyed himself combing through the KPM archives, and in turn he made some fantastic psychedelic and jazz fusion-inspired beats. To complement the beats, he reached out to a few of the usual collaborators such as Raw Poetic, Blu, and Insight, along with taking the mic himself for a couple of songs, albeit in more of a narrator/spoken word role. All of these contributions are great, but it's the surprise inclusion of Brooklyn emcee Nitty Scott who steals the show on "Four Better or Worse, Part 1," just coming through like a whirlwind of confidence and creativity on the mic. This also kicks off a really strong back half of the album, where Damu keeps building and expanding until you reach "Four Better or Worse, Part 4," and you're just riding this gorgeous and funky psychedelic jazz/hip hop odyssey for over seven minutes. The great thing is that Damu is so clever with his compositions, you don't really notice how long the song is until it's over, it's just such a fun and constantly evolving ride you just enjoy the moment that you're in.
I don't know where else this series is going to go, but starting things off with Damu the Fudgemunk and Conversation Peace was a smart choice. It's extremely creative, masterfully constructed, and just a lot of damn fun to listen to.
| | |
| --- | --- |
| Title: | Damu the Fudgemunk - Conversation Peace |
| Label: | Def Pressé |
| Year: | 2021 |
| Rating: | 8/10 |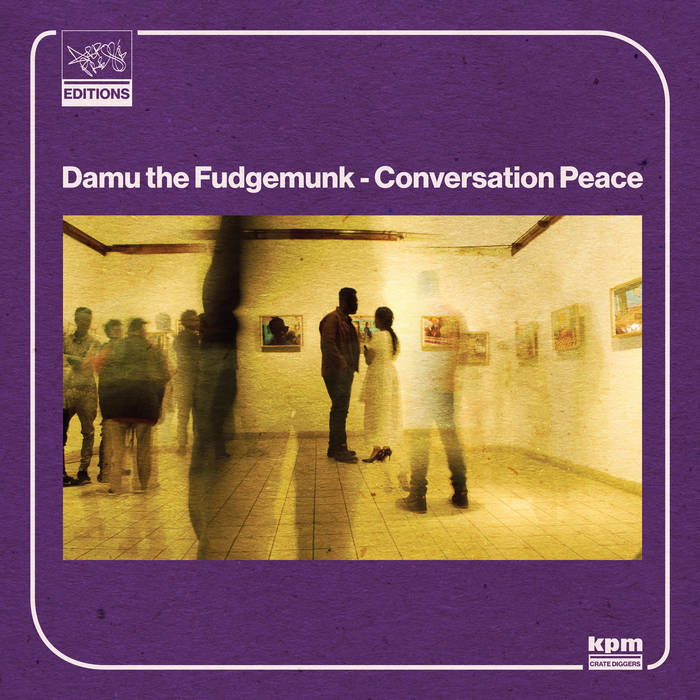 Previous: Dug, CKPITS, Sicksmith - So It Gose
Next: The Council of the Gods - Trilogy