Curbside Jones & Dexter Fizz - The Last Train EP
Written by Chi Chi Thalken on May 12, 2021
Austin artist Curbside Jones and Baltimore artist Dexter Fizz have both been releasing music for roughly the last ten years. Like many of us, they have a story that begins with an innocent vision at the beginning of 2020 that was quickly derailed by the pandemic. In their case, they had connected and began to work on an EP that would then be used to fuel an international tour to Japan. While that obviously didn't go as planned, we still get to enjoy the fruits of this international collaboration with the release of their EP, The Last Train.
The inspiration for the EP comes from the real life adventures of Dexter Fizz, who missed the last train of the evening in Tokyo while on tour with Cram. As any American artist who has made this trip can tell you, this can lead to quite the adventure, since it means that you're stuck in a foreign country for several hours before the first train of the morning comes around. In the case of Fizz, it meant bouncing between feelings of self-reflection, newfound confidence, rebellion, and inspiration. What this means in practical terms for the EP is that Jones is laying down a good chunk of the production, along with beats from Dhrma, Phill Blanks, Ballhead, and CRAM. Together, they are throwing down some smooth and soulful late night beats, built around some cleverly flipped samples that bring that midtempo funk and warm basslines that sooth the soul. This makes for the perfect soundtrack as you imagine yourself walking around Tokyo in the middle of the night. On the mic, Jones and Fizz are trading rhymes as they bounce between these feelings of excitement and bravery with self-reflection and doubt. Along the way, they are joined on the mic by LafLife, NF Zessho, and Muma, literally putting themselves in conversation with the hip hop culture of Japan. The beautiful thing is that even if you don't speak the language, you can still catch the vibe of the exchange as the universality of the music creates this space for artists that literally live thousands of miles apart from each other and speak different languages to find this commonality.
While things didn't necessarily go to plan the way that Curbside Jones and Dexter Fizz had originally hoped, The Last Train EP at least gives us this international hip hop exchange between the U.S. and Japan that we can all enjoy at home. It's smooth, soulful, and just incredibly easy to listen to and get lost in with some fantastic late night vibes.
| | |
| --- | --- |
| Title: | Curbside Jones & Dexter Fizz - The Last Train EP |
| Label: | S/R |
| Year: | 2021 |
| Rating: | 8/10 |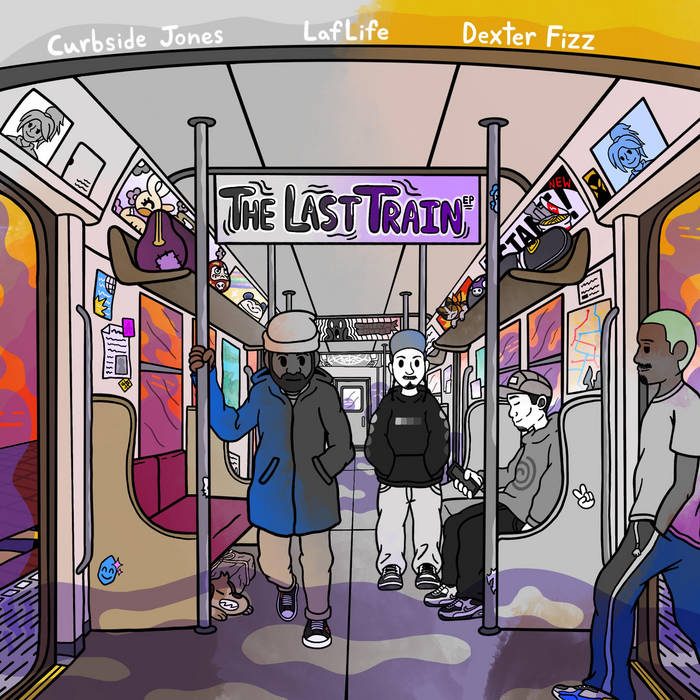 Previous: Tré Orona - Dead Renaissance
Next: Cyesm - New Worlds