Chokeules - Nepotism
Written by Chi Chi Thalken on July 22, 2020
Chokeules is an emcee from Toronto who is part of the humungous Backburner Crew, as well as part of several sub-groups such as Swamp Thing and Toolshed. While he's certainly kept himself busy (Swamp Thing traditionally release an album every year on Halloween), it's actually been six years since his last solo album, Stay Up. Now he's finally back with a new solo album, Nepotism.
For this album, Chokeules enlisted the help of his cousin LRYBRDBTZ on production and DJiRATE on the cuts. Together, they have made what they are describing as "slow-fi boom bap", which might sound silly, but it is a phrase that actually works well here. It's an album that definitely has it's roots in the classic boom bap of the early '90s, but things are drawn out to this very deliberate pace, along with some subtle inversions of rhythmic patterns that makes this album sound just slightly unusual. As a result, it's not an album that will get people on the dance floor, but it is an album you can still get hype to and sing along with the choruses. Chokeules is giving you just the right mix of politics with an absurd sense of humor and a genuine love of hip hop. Nowhere does this come together better than on "Eat the Rich," which will make a nice anthem to chant as we march on people like Jeff Bezos. More than anything, though, this is just an incredibly solid hip hop album from a veteran emcee who knows what he's doing. He's confident in his abilities on the mic, he comes at you with different flows, and he knows how to balance his goofy side with his serious side. It's also an album from someone who truly loves the artform and has given you an album with so many great moments with layers of wordplay and punchlines and philosophical and political quandaries that you'll be listening to this album over and over, catching a new moment each time through.
Nepotism is a great album from a veteran emcee in Chokeules that just hits from start to finish, with clever, understated production and rhymes for days. It's a hip hop album for those that really love the art form.
| | |
| --- | --- |
| Title: | Chokeules - Nepotism |
| Label: | Hand'Solo |
| Year: | 2020 |
| Rating: | 8/10 |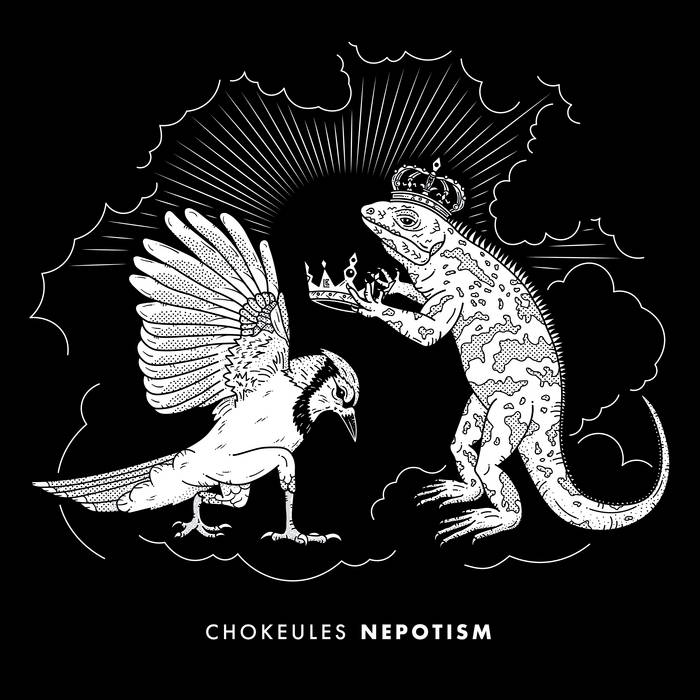 Previous: Curly Castro & Small Professor - BLUu Edwards
Next: Amerigo Gazaway - Endless Summer Nights