Curly Castro & Small Professor - BLUu Edwards
Written by Chi Chi Thalken on July 22, 2020
Emcee Curly Castro and producer Small Professor have both been having a busy 2020. Castro released an album with his group Shrapknel with PremRock and had a guest appearance on the latest Armand Hammer release. Small Pro has been busy releasing his instrumental "Jawn" collections at a rate of nearly once a month. Now they've come together to drop a full length album together, BLUu Edwards.
Castro and Pro have been friends for years, and they've collaborated on tracks for different projects in those times, but this marks the first time they've made a full-length album together as a duo. You might have certain expectations going into this project based on what the two have done over the past few years, and to a certain extent you might get in the right ballpark, but chances are that BLUu Edwards is still going to throw a few curveballs at you. The main reason is that Small Professor is really coming at you with these beats that are a lot darker and jagged than a lot of his usual output. There are still moments where Pro might lay back in the cut with a nice jazz piano sample and boom bap beat, but for the majority of the album he's coming at you with much weirder and dissonant beats that don't allow you to get to comfortable while you're listening to the music. Castro is in turn feeding off that energy, and it certainly serves his low growling deliver on the mic well. This is also an album that mostly eschews traditional pop format, especially in terms of choruses. There just aren't a lot of singalong or call and response moments, nothing that will stick in your head all day. Instead, you're getting an album that's all about the lyricism – the imagery, the poetry, and the stories. It's an album that you don't necessarily rock with, it's an album that you sit and listen and study.
BLUu Edwards is a challenging listen from two longtime friends in Curly Castro and Small Professor. They aren't here to spoon feed you anything. They are here for you, though, if want an album that demands the listener give them their full attention and is willing to take some musical risks and pay attention to the lyricism. If you're willing to put in the work, Castro and Pro will reward you with some hip hop that doesn't play by the rules.
| | |
| --- | --- |
| Title: | Curly Castro & Small Professor - BLUu Edwards |
| Label: | Wrecking Crew |
| Year: | 2020 |
| Rating: | 8/10 |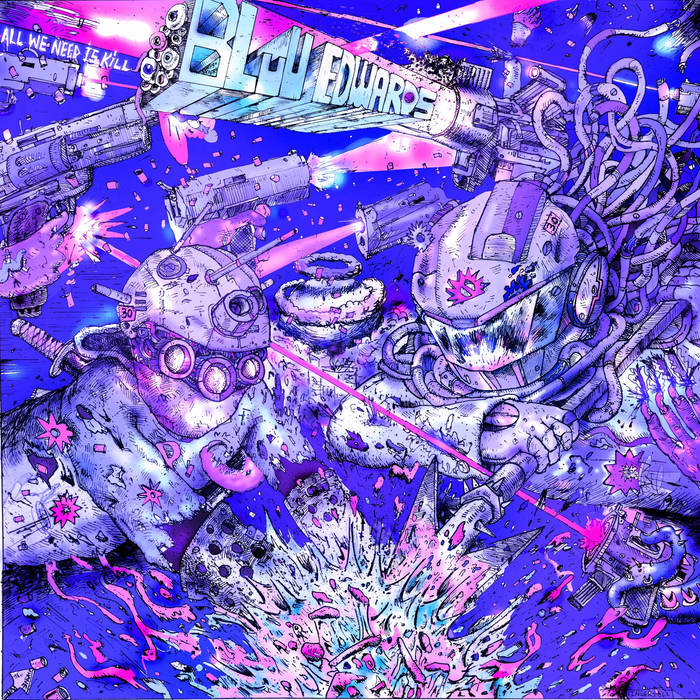 Previous: Flobama - H-E-Beats
Next: Chokeules - Nepotism