Ceschi - This Guitar Was Stolen Along With Years of Our Lives
Written by Chi Chi Thalken on November 17, 2021
Once upon a time, all the way back in 2019, Ceschi announced his grand plan to release a trio of albums and retire the name "Ceschi" for good. He would then move on to whatever the next phase of his career might be. He released Sad, Fat Luck in April of 2019, and Sans Soleil came in August. Unfortunately, the third album, Bring Us the Head of Francisco False, got delayed due to some logistics, and Ceschi was forced to push back the plan into 2020. Then the whole world went to shit and everyone's plans went out the window. After living through this time period and waiting for everything to be back on track to finish this last album, Ceschi went ahead and recorded another, different album, This Guitar Was Stolen Along With Years of Our Lives.
As any fan of Ceschi can tell you, the appeal of his music is the way he balances his folk/punk side with his hip hop side, along with the fact that he always puts his whole self into anything he does. With Bring Us the Head of Francisco False still coming hopefully in 2022, Ceschi leant into his folk/punk side for This Guitar. There are a few moments here and there where the emcee side of him comes out and he brings out the rapid fire staccato delivery he has in his back pocket, but mostly this is a singer-songwriter album. The album was largely written and recorded alone and with Ceschi's brother, David Ramos on drums, with additional instrumentation like brass, strings, accordion, and banjo recorded separately and added in to fill out the sound. As nice as those moments are and they do add some emotional resonance, this album is mainly about the raw emotional moments of Ceschi on the mic and on the guitar, just pouring his heart out and losing his voice as he sings and screams with everything he has. As you might imagine, coming out of this time period of loss and isolation, Ceschi is touching on the loss of friends who passed way before their time, the frustration that more people don't think of others and live with compassion, and also taking the moments to be thankful for the love and support you do have in your life. It's a time capsule of a moment that has gone on way too long, and its just pure, unadulterated Ceschi, who has a way of putting all of these large and small feelings into beautiful words and stirring music.
This Guitar Was Stolen Along With Years of Our Lives is a little bit of a change of pace for Ceschi, and certainly not anything planned out far in advance. It still fits within the musical niche he's been carving out for himself over the last decade-and-a-half, though. It's raw and its passionate, and if you're looking for a good cathartic listen that you can scream and cry along to, this is the album for you.
| | |
| --- | --- |
| Title: | Ceschi - This Guitar Was Stolen Along With Years of Our Lives |
| Label: | Fake Four |
| Year: | 2021 |
| Rating: | 9/10 |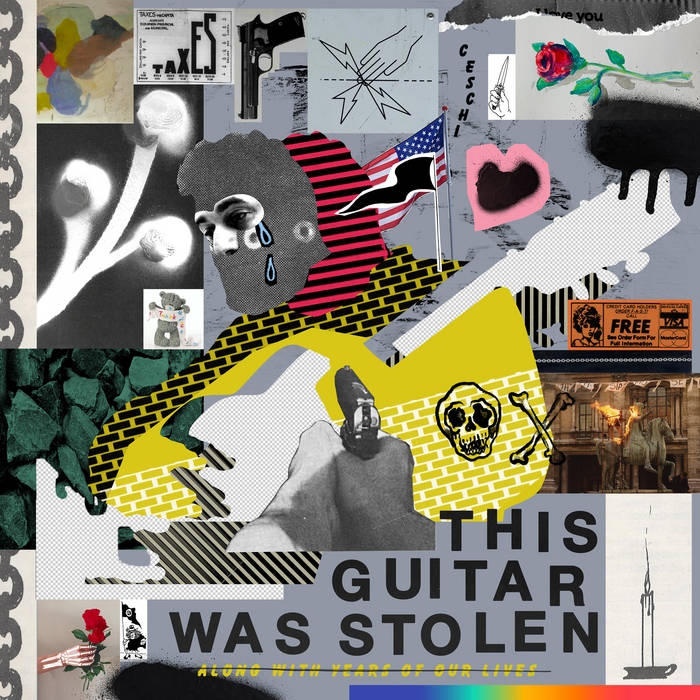 Previous: Tarik Robinson - Rotations
Next: Reasun - Garden of Gravel