Career Crooks - Never at Peace
Written by Chi Chi Thalken on December 7, 2021
Career Crooks is the pairing of Philly and Wrecking Crew members Zilla Rocca and Small Professor. While they had been friends and collaborators for years, they didn't officially make their debut as a duo until 2017, when they released their first LP, Good Luck With That. While they have both kept busy with a myriad of different projects since that time, they have now come back together to release their sophomore album, Never at Peace.
If you've spent time with their first album, or any number of these two artists' various other projects, it will come as no surprise to learn that the sound of this album leans heavily on the grimy East Coast boom bap of the mid-'90s. It's what they came up on, it's who they are as a duo, and few can cook up beats in that style these days as well as Small Professor. Over the course of the album, Rocca is hopping on the mic to spit rhymes mostly about his everyday life, whether that is navigating the music industry as an independent hip hop artist or juggling that with his family life. He's also finding some room to bring in a little bit of politics, and of course dropping some basketball references. We also get a few appearances from fellow Wrecking Crew emcees like PremRock and Curly Castro, along with some outside collaborations with ialive and Blueprint. They all complement Rocca on the mic very well and inject the album with some great energy. The whole thing comes together for a solid sophomore album that is very easy to listen to, just nice soulful grooves and rhymes about everyday life, delivered with confidence and a sense of humor.
Never at Peace is an album that luckily no one overthought. Zilla Rocca and Small Professor bonded over a certain style of hip hop when they first formed Career Crooks, and they stuck with the winning formula on their second album. There's no sophomore slump here, just another collection of solid Philly hip hop.
| | |
| --- | --- |
| Title: | Career Crooks - Never at Peace |
| Label: | Wrecking Crew |
| Year: | 2021 |
| Rating: | 8/10 |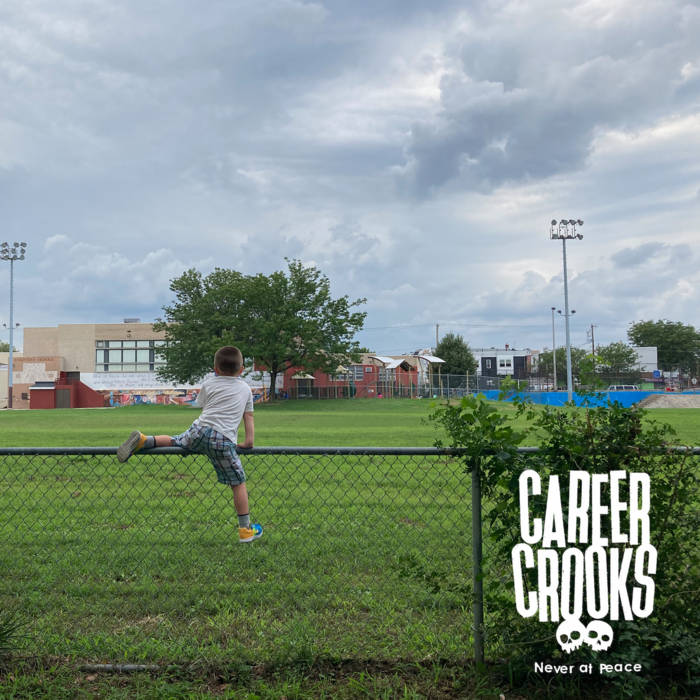 Previous: Skipp Whitman & ANIMALMILK! - 8K
Next: Teeth Agency - Cherry Blossom Child